Lenoir Motorcycle Accident Attorney
Motorcycles are popular in North Carolina, and while most of the riders in the Lenoir area enjoy their time riding without experiencing accidents, motorcycle crashes can and do happen for various reasons. Due to the inherently dangerous nature of a motorcycle, a rider has very little physical protection in a crash. As a result, these accidents, while less common than passenger car accidents, often generate far worse damage.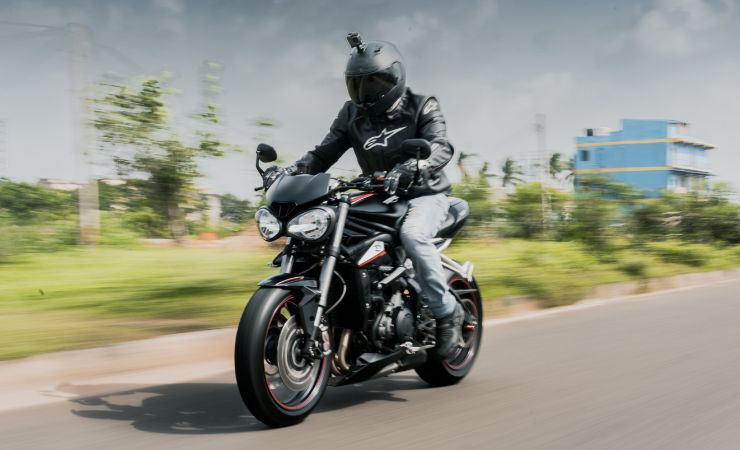 Trustworthy Legal Representation for Motorcycle Accident Claims in Lenoir
If another driver is to blame for the motorcycle accident you or a family member recently experienced, it is crucial that you seek legal representation you can trust as quickly as possible to preserve your ability to recover as much compensation as state law allows. Your motorcycle accident claim could be worth much more than you initially expected, but you are going to need reliable legal representation on your side to maximize the results of your recovery efforts.
Helton, Cody & Associates provides comprehensive legal representation to victims of motorcycle accidents in the Lenoir area. Our team has handled a wide range of vehicle accident cases, and we have assisted many injured riders in recovering from the damages caused by others. We can apply this professional experience to your impending motorcycle accident case. Regardless of exactly how your accident happened, if another driver is responsible for it, you have the right to seek accountability for the damage they've done.
Common Causes of Motorcycle Accidents
The state enforces a fault rule for resolving vehicle accident cases. This means that whoever caused an accident is legally responsible for all the resulting damage. Therefore, recovery from a crash in Lenoir is likely to entail an auto insurance claim against the driver who caused the accident, followed by a personal injury claim when insurance alone cannot compensate for their losses. A few of the most commonly cited causes of motorcycle accidents that implicate other drivers as liable for damages include:
Distraction. Across the United States, distracted driving is the most common cause of all vehicle accidents reported each year. A few seconds of inattention is all it can take for a driver to cause a devastating collision, especially if they hit a smaller vehicle, such as a motorcycle. Cell phone use behind the wheel is the most commonly cited form of distracted driving responsible for collisions throughout the United States.
Intoxication. It is illegal for anyone to drive under the influence of drugs or alcohol. When this behavior results in a motorcycle accident, not only is the at-fault driver likely to face substantial liability for the victim's damages, but they will also face prosecution for violating North Carolina law.
Speeding. Exceeding posted speed limits puts the speeding driver and everyone around them at risk. Accidents that happen at higher speeds are more likely to cause catastrophic or fatal injuries, and speeding is a top-cited cause of fatal motorcycle accidents throughout the country.
Reckless driving. When drivers disregard the safety of others and exceed the scope of standard negligence, they can cause not only devastating harm but also face criminal charges.
Poor visibility. Drivers are expected to use additional care and caution when driving at night, during severe weather, or in any conditions that limit visibility. Since motorcycles are smaller than other vehicles, restricted visibility is especially dangerous to riders.
There are other ways that drivers can cause accidents, and ultimately whenever you know another driver is to blame for a crash, you have the right to seek accountability and compensation for the losses they caused. If you are unsure how to proceed with recovery from your recent accident, it is crucial that you speak with an experienced Lenoir motorcycle accident attorney as quickly as possible.
How to Recover From a Motorcycle Accident in Lenoir
When another driver is responsible for your recent accident, the first step you face in recovering from the incident is filing an auto insurance claim against them. State law requires all drivers to carry auto insurance that meets specific coverage amounts. However, a serious accident can cause damage that eclipses the at-fault driver's insurance coverage. In this situation, the victim must prepare to file a personal injury claim against the at-fault driver, seeking compensation for the losses they cannot secure through insurance.
A Lenoir motorcycle accident attorney can streamline the insurance claim process for their client, filing a demand letter to the at-fault driver's insurance company on their behalf. They can also address any unexpected issues that arise with the insurance claim, such as an unfair denial of coverage or unreasonable delays in claim processing. Once the injured driver secures as much as they possibly can through insurance, the next phase of their recovery is likely to be a personal injury claim.
Compensation for Your Damages in a Motorcycle Accident Case
North Carolina's personal injury statutes allow an injured motorcycle rider to seek full repayment of all the economic damages the defendant caused them to suffer. Most personal injury claims filed in Lenoir will entail economic damages such as medical expenses, lost income, and vehicle repair costs. While you may be able to assess the scope of immediately recognizable economic losses, an experienced Lenoir motorcycle accident attorney may reveal grounds to seek even more expansive compensation.
For example, you may have suffered a serious injury that not only demands emergency treatment immediately after the accident but will also require ongoing rehabilitative care. Your attorney can assist you in securing compensation for both immediate damages and those that have not yet been realized, enhancing your overall recovery. Similarly, if you are left unable to work for any extended time due to your accident, you have the right to seek repayment of your lost future earnings as well.
Beyond your claimable economic losses, you can also seek pain and suffering compensation. State law does not limit pain and suffering damages in motorcycle accident claims, so it's possible for this to form the lion's share of your total recovery. When you have an experienced Lenoir motorcycle accident attorney handling your legal proceedings, you are more likely to maximize your recovery to the fullest extent possible.
Motorcycle Accident Lawsuit FAQs
Q: Why Should I Hire a Lenoir Motorcycle Accident Attorney?
A: It's natural to wonder whether you need to hire legal representation, especially when the fault for your recent motorcycle accident seems perfectly clear. An experienced Lenoir motorcycle accident attorney can not only make it much easier for their client to prove fault for their recent accident but also significantly increase the total compensation the client obtains at the conclusion of their case.
Q: How Much Compensation Can I Receive for a Motorcycle Accident?
A: The total value of your motorcycle accident claim hinges on the economic damages you suffered and the severity of any long-term effects resulting from the incident. If you have any measure of permanent damage, you could be legally entitled to far more compensation than you may expect at first. Therefore, the right legal team is the best asset if you want to maximize the results of your impending civil claim in Lenoir.
Q: What Are the Most Common Motorcycle Accident Injuries?
A: A motorcycle provides virtually no physical protection in a crash, and even the highest-quality safety gear can only mitigate a rider's injuries in an accident. Traumatic brain injuries, spinal damage, internal organ injuries, and broken bones are the most commonly reported motorcycle accident injuries in Lenoir and throughout the state. The victim has the right to recover compensation for their immediate and long-term medical expenses resulting from the accident.
Q: Can a Driver Go to Jail for Causing a Motorcycle Accident?
A: When a driver causes a vehicle accident through negligence, they are likely to face a civil suit from the injured victim, but they are unlikely to face jail time or criminal prosecution. However, if a motorcycle accident happens because of illegal misconduct, such as driving under the influence of alcohol, the defendant will almost certainly face criminal charges from the state. If this applies to your situation, consult your attorney as to how the defendant's illegal misconduct could influence the direction of your recovery efforts.
Q: How Much Does it Cost to Hire a Lenoir Motorcycle Accident Attorney?
A: Most personal injury attorneys accept cases on a contingency fee basis. The client pays no upfront legal costs, and they do not pay anything to their attorney if they do not win their case. The attorney's fee is contingent upon their ability to secure a settlement for the client, and the fee is a percentage of the final case award. Make sure you fully understand your chosen attorney's billing policy before you agree to their representation.
The attorneys at Helton, Cody & Associates have years of experience providing comprehensive legal representation to clients throughout the state. Our team has helped many motorcycle accident victims recover much more compensation than anticipated, and we know the unique legal challenges that motorcycle accident claims often present to injured victims and their families. If you are struggling in the aftermath of another party's negligence or misconduct, contact Helton, Cody & Associates today and schedule a case evaluation with a Lenoir motorcycle accident attorney.