Lenoir Wrongful Death Attorney
Every year, thousands of people throughout the United States are lost in fatal accidents, many of which occur due to the negligence or misconduct of others. A wrongful death can be devastating for anyone to experience, and knowing that another party's intentional misbehavior or failure to exercise reasonable caution led to your loved one's death can add frustration to the intense mix of emotions you are likely to experience in this situation.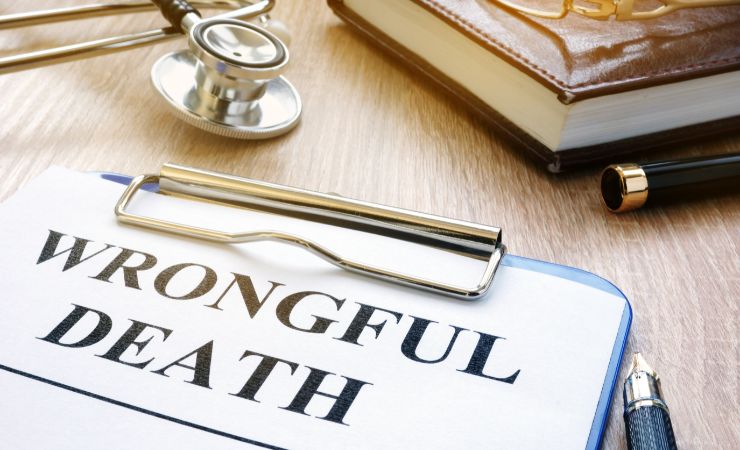 Compassionate Legal Representation for Lenoir, NC, Wrongful Death Cases
Helton, Cody & Associates provides compassionate and responsive legal representation to those struggling with losing their loved ones due to negligence or misconduct in Lenoir, NC and surrounding communities. Our team has extensive professional experience with a wide range of civil suits, including those that pertain to wrongful deaths. Whether criminal behavior or general disregard for the safety of others led to your relative's death, we can guide you through the legal proceedings necessary for holding them accountable.
Benefits of Hiring a Lenoir Wrongful Death Attorney
It is technically possible to file a civil suit without an attorney, and it is even possible to win such a case without legal representation. However, the actual chances of the average person accomplishing this are very slim, and even if they succeeded, they would be highly unlikely to reach the same level of results that an attorney could have secured on their behalf. Additionally, the emotional stress of losing a loved one tragically and unexpectedly will make it difficult for anyone to manage their legal proceedings unassisted while also attending to their family and other everyday responsibilities.
When you choose the attorneys at Helton, Cody & Associates to represent you in a wrongful death claim, our goals are to guide you through the case as efficiently as possible, secure as much compensation as possible for you and your family, and ensure accountability for the party at fault. Money cannot replace a lost loved one, but the financial compensation your family obtains from a successful wrongful death claim can make it much easier for you to adjust to your new circumstances. Our team has secured substantial case awards for many past clients, and we are ready to leverage our extensive experience on your family's behalf in your wrongful death action.
Common Causes of Wrongful Deaths in Lenoir
If another party is directly responsible for the recent death of your loved one, you likely have grounds to file a wrongful death claim. State law requires the personal representative of the deceased to file a wrongful death claim. Therefore, if the deceased had a will or any other form of estate plan in place at the time of death, the personal representative they have chosen would assume the responsibility of acting as the plaintiff in the family's wrongful death claim.
In the event that the deceased did not have an estate plan, or if the personal representative named in the estate plan cannot or will not assume this responsibility, the court will select a representative. Surviving spouses, children, and other close relatives are most commonly chosen to act as wrongful death plaintiffs. The first challenge they face is proving how the death occurred, and a few of the most commonly reported causes of wrongful deaths throughout the state include:
Motor vehicle crashes. Every year, vehicle accidents account for a large number of accidental deaths in the state. If a negligent driver caused a fatal accident, their auto insurance might only cover a fraction of the total damages you have the right to claim from them.
Medical malpractice. While thousands of people trust medical professionals to provide safe and effective medical treatment, the reality is that medical negligence is a leading cause of wrongful deaths throughout the United States each year. If your wrongful death claim falls within the purview of medical malpractice, it is essential to find an attorney familiar with the state's wrongful death laws.
Premises liability. A slip and fall or other accident on private property could implicate the property owner as liable for the resulting damage. In addition, if your loved one died while legally present on someone else's property because of a safety issue the property owner neglected to address in a reasonable manner, your family likely has the right to file a wrongful death suit against the property owner.
Ultimately, if any other party is liable for the recent death in your family, it is crucial that you seek legal counsel you can trust as quickly as possible. The attorneys at Helton, Cody & Associates have the legal experience and resources you need on your side to navigate this type of case.
Recovering Compensation for a Wrongful Death in Lenoir
Financial compensation cannot return your lost loved one, but it can assist your family's adjustment to your new circumstances and alleviate the financial pressure caused by the unexpected death. Unlike a personal injury case that seeks compensation for the victim's losses, a wrongful death suit seeks compensation for the losses experienced by the family of the deceased.
Your Lenoir wrongful death attorney can assist your family in securing economic damages such as the lost future income the deceased could have provided to your family, any other direct financial losses resulting from their untimely death, and funeral and burial expenses. You will also have the right to seek compensation for the pain and suffering you and your loved ones have experienced, and other variables can influence the final case award you obtain.
The attorneys at Helton, Cody & Associates have years of experience providing comprehensive wrongful death representation to clients in Lenoir and surrounding communities. If you are unsure how to proceed with seeking accountability for the recent wrongful death your family experienced, it is crucial to secure legal representation from a trustworthy legal team as quickly as possible.
Wrongful Death Case FAQs
Q: What Constitutes Wrongful Death in North Carolina?
A: State law defines wrongful death as a death occurring from any wrongful act, such as negligence or intentional misconduct. If the death in question could have been prevented with appropriate care, or if the party who caused the death broke any law in the act that resulted in the death, the victim's family likely has grounds to file a wrongful death claim.
Q: How Long Do You Have to File a Wrongful Death Claim in North Carolina?
A: State law imposes statutes of limitations for all types of civil cases. The statute of limitations is the time limit you have to file a particular claim. For example, when it comes to a wrongful death suit, the plaintiff has two years from the date of the death in question to file the claim. However, if the cause of death can't be immediately determined, or the victim's family discovers that another party is responsible for the death months after the death, these variables can "toll" or delay the statute of limitations.
Q: Who Obtains the Case Award From a Wrongful Death Suit?
A: A wrongful death claim does not necessarily seek compensation for the victim's losses, instead seeking to compensate the victim's family for the effect the death in question has had on their lives. The personal representative of the deceased must be the one to file the claim, and many variables can influence the final amount of compensation obtained by the family. Your Lenoir wrongful death attorney will apprise you of what to expect in terms of the recovery you and your loved ones should expect from a successful wrongful death case.
Q: How Much Does It Cost to Hire a Lenoir Wrongful Death Attorney?
A: When your family is struggling with the financial fallout of a relative's sudden and unexpected death, it is understandable to worry about how much legal counsel will cost if you intend to pursue a wrongful death claim. Most attorneys accepting wrongful death cases operate on a contingency fee basis, meaning they will take a percentage of the case awards they obtain for their clients. The attorneys at Helton, Cody & Associates will carefully review our billing policy with you before any contracts are signed to ensure there are no surprises when it comes to the cost of your legal representation.
Q: Is It Worth Hiring a Lenoir Wrongful Death Attorney?
A: An experienced legal team can make a tremendous difference in the outcome of your impending wrongful death claim. If you are concerned about the cost of your legal fees, it's important to remember that the right attorney can potentially enhance your case award far more than you may expect, and you will have reliable legal counsel readily available to address concerns and answer your questions throughout every stage of your case.
The attorneys at Helton, Cody & Associates have years of professional experience representing clients in all manner of civil cases, including wrongful death claims. We know how emotionally stressful this type of case can be and the common legal challenges the surviving family members are likely to face after losing a loved one to an act of negligence or misconduct. Rest assured that our team can provide the responsive and compassionate legal counsel you need to approach this difficult case with confidence. If you are ready to discuss your case with an experienced Lenoir wrongful death attorney, contact us today and schedule a consultation with our team.