Valdese, NC, Injury Attorney
Personal injuries are any type of physical or emotional harm an individual experiences at the hands of someone else's negligence or intentional wrongdoing. There are a ton of different scenarios that, unfortunately, can result in personal injuries, such as car accidents, incidents at work, and even medical malpractice. These instances can present real challenges to the victims who did not ask to be a part of these legal issues, such as medical bills that they do not have enough funds to cover or lost wages from being unable to work. For anyone who is struggling with the aftermath of a personal injury and wants to hold their abuser accountable, connecting with a Valdese personal injury attorney to advance a claim is the first step.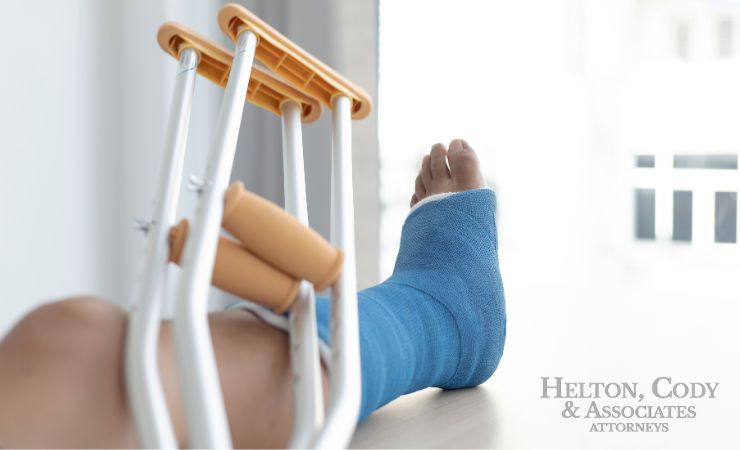 Common Causes of Personal Injury Claims in Valdese
There are many different reasons people experience personal injuries in Valdese, NC. Some of the most common reasons that start a personal injury claim include:
Car accidents. There are a ton of different high-traffic areas throughout the city of Valdese, especially around Main Street and Massel Avenue. Collisions can result in debilitating injuries that make it difficult to function. You could also be facing significant damage to your vehicle that needs to be repaired. These are legitimate reasons to pursue a personal injury claim and seek compensation for medical expenses to address your injuries or for the damage done to your car.
Slip-and-fall accidents. It is the responsibility of business owners in Valdese to make sure their property is free of hazards for their employees and anyone else who may visit. When this duty is neglected, slip-and-fall incidents are not uncommon. Some cases have even resulted in broken bones and spinal injuries that require significant medical intervention. Victims are encouraged to pursue a personal injury claim so they are not stuck with paying for any bills they incur from someone else's negligence.
Workplace accidents. Employers are expected to offer safe environments for Valdese residents to come to work and make a living. Sometimes employers overlook some safety obligations that result in an injury. This is especially true in manufacturing and construction roles. Repetitive stress injuries from not being able to take proper breaks or severe injury from a malfunctioning piece of heavy machinery are two examples where an employee could unnecessarily be injured on the job.
Medical malpractice. No one thinks twice that their trip to the hospital for medical care could leave them in even more pain than before their visit. This, unfortunately, does happen from time to time. A doctor could misdiagnose an illness that could have been treated sooner or perform an error during surgery that inflicts even more harm to the patient. The legal system is prepared to help victims of medical malpractice detail the events that occurred and seek justice for their suffering.
Defective products. Manufacturers have a duty to prove that the products they produce and distribute will not cause any harm to their end users. If a product was improperly designed and not flagged before reaching its end user, the company would be held liable for any personal injuries it caused as a result. This could be a medical device that was defective or an automotive part that ended up not performing and resulting in a car accident.
How to Win a Personal Injury Claim
While it may seem easy to win a personal injury case if you have the injuries to prove it, this should not be assumed. Companies have large legal teams and sometimes endless budgets that will work overtime to reduce the amount they have to pay victims. It is not possible for an attorney to guarantee an outcome, but these guidelines can help increase the likelihood of you winning your case:
Preserving all evidence. The more evidence you have that supports your claim, the better. This can include pictures that were taken at the scene of the crime, any injuries that were documented as you received treatment, or even proof that your property was damaged. If you went to the hospital for treatment, be sure to keep those records. The same applies to any police reports or testimonials of witnesses who also saw what happened.
Seek medical attention as quickly as possible. Once the incident has occurred, you need to get to a hospital to make sure you are safe. The second benefit to this is to record your injuries as close to the incident date as possible. If you take your time getting to the hospital, it opens up more of a possibility for the defense to say your injuries were not that serious or unrelated to the event you are trying to claim caused your pain.
Consult with a personal injury attorney. This journey will be much harder without the backing of a qualified injury attorney. They have likely already closed many cases similar to the one you are facing. Being able to leverage the proven practices they have obtained over the years can keep your case moving as fast as possible without the fear of missing any details that could let your abuser escape accountability.
Avoid offering any type of recorded statement. Insurance companies will sometimes try to get a statement from you right after the incident. Their intentions are sometimes valid, but it's not recommended to provide this until speaking with your attorney. You want to make sure that anything you say will not be used against you in the courtroom. An attorney understands the motivations of an insurance company and will not let you participate in anything that might jeopardize your case.
Be patient. While it can be really frustrating in the heat of the moment to not hold the responsible parties accountable, you want to be patient throughout the process. Sometimes people are quick to accept a lowball settlement, thinking it is the maximum amount of compensation they could be offered. Your attorney knows what is possible to obtain and what is a first weak attempt at settling a case. Trust their instincts and be patient to make sure you can obtain as much compensation as possible.
Stay off social media. This is a newer piece of advice as our social activities online have increased dramatically over the years. You want to make sure you are not having any conversations publicly online about your case. Insurance companies and defense attorneys look into these platforms to see if there is any evidence that can help their clients evade the full extent of damages due.
Personal Injury Attorney FAQs
Q: What Percentage Do Most Personal Injury Lawyers Take?
A: To respect the fact that you were not expecting to be involved in a personal injury case and might not have a ton of money available to use, most attorneys work on a contingency fee basis. This means that you will not owe any money to your attorney unless they are able to successfully earn you compensation for your injuries. This percentage varies by attorney but commonly falls within the 25% to 40% spectrum. Be sure to ask your attorney about their fee structure during your initial consultation to make sure your budget aligns with their expectations for payment.
Q: What Is the Statute of Limitations in North Carolina for Personal Injuries?
A: You will have three years from the date of your accident to move forward with a personal injury claim. If you fail to meet this timeline, your case will be dismissed as your alleged abuser is protected by this statute. There are some exceptions to this rule, especially if there is any evidence that negligence or abuse has continued to happen after the first major accident. Consult with your personal injury attorney to see if there is still a chance of obtaining compensation if you are past the statute of limitations.
Q: What Is the Pain and Suffering Limit?
A: There is no specific cap outlined for pain and suffering damages in North Carolina. The state follows a contributory negligence rule. This means if anyone is found to be partially at fault for an accident, there is a chance they won't be able to recover compensation, for example, if you were in a car accident where both parties neglected a traffic rule. Work with your attorney if you have concerns that the other party will be able to prove that you had partial responsibility for the cause of your personal injuries.
Q: How Do I File A Personal Injury Lawsuit?
A: The process of filing a personal injury lawsuit starts with drafting the legal complaint with the civil court. The document should be descriptive and outline exactly what happened at the scene of the accident and what injuries were suffered as a result. Other details, such as the time of the event, must be included so the court can see you are still complying with the statute of limitations. An attorney can help you draft this initial complaint to make sure it is as effective as possible to start your legal journey off right.
Contact Law Office of Lyndon R. Helton, PLLC Attorneys Today
If you have suffered from personal injuries and are ready to seek some accountability, contact Law Office of Lyndon R. Helton, PLLC Attorneys as soon as you can. We have been protecting the rights of those injured in Valdese for many years and would be happy to hear more about your incident and share how we can work together to strategize a winning case that ends with compensation.