Valdese Pedestrian Accident Lawyer
Pedestrians face serious risks any time they walk near moving traffic. While most pedestrians in the Valdese area are able to reach their destinations safely, others are not so fortunate. When pedestrian accidents happen, injured victims are likely to face substantial damages and difficult legal questions they will need help answering. A Valdese pedestrian accident attorney is an invaluable asset in this challenging situation.
Helping Injured Pedestrians Recover in Valdese, NC
If you or a family member recently sustained injuries and other damages in a pedestrian accident, you likely have grounds for a personal injury claim against the at-fault driver. You may also be able to recover some compensation by filing a claim against their auto insurance policy. However, it is vital to have legal counsel you can trust for these recovery efforts. The team at Helton, Cody & Associates, PLLC, can help determine your most viable options for legal recourse and help you hold a negligent driver accountable for the harm they've done.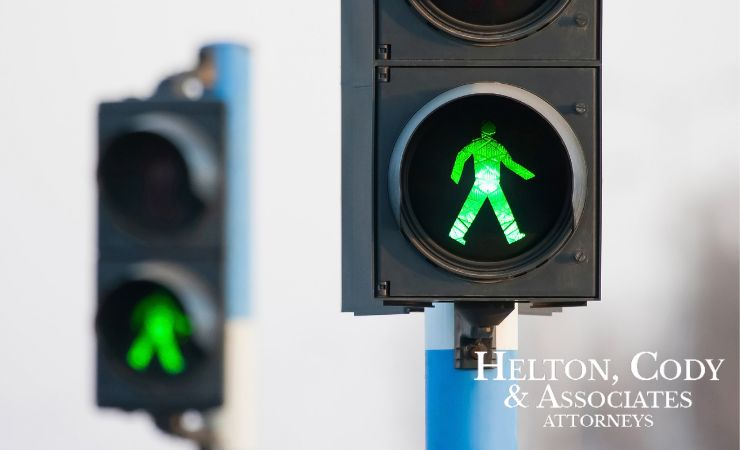 Building Your Pedestrian Accident Claim in Valdese, North Carolina
State law allows you to seek full repayment of all the damages you suffered because of another party's negligence or misconduct. Any pedestrian accident has the chance of causing severe traumatic injuries, such as bone fractures, brain injuries, spinal cord damage, and more. Many victims of these incidents not only sustain multiple life-changing injuries but are also left unable to work for extended periods of time. Their medical bills and lost income from their inability to work create a very difficult financial situation, and it's easy to feel lost if you find yourself in the aftermath of a pedestrian accident.
The first step in recovering from this type of personal injury is proving fault. You must identify the driver who hit you and prove their negligence or intentional misconduct behind the wheel directly caused your claimed damages. Your Valdese pedestrian accident attorney can be invaluable for this aspect of your recovery efforts, helping you gather the evidence needed to firmly prove liability for the damages you suffered.
The next phase of your case will require proving the full extent of the damages the defendant inflicted with their actions. Under state law, a personal injury plaintiff has the right to claim compensation for medical expenses, future medical treatment costs, lost wages, lost future earning capacity, property damage, and pain and suffering.
The attorneys at Helton, Cody & Associates, PLLC, approach every case we accept with the goal of maximizing our client's recovery. We know that you are likely to have many difficult legal questions in the aftermath of a pedestrian accident, and determining your most viable options for recovering your losses can be very challenging without legal counsel you can trust on your side. Time is a crucial concern for anyone in this situation as they have a limited time in which to file their case. The sooner you secure legal representation from a Valdese pedestrian accident attorney, the more likely you are to succeed with the recovery efforts you pursue.
Pedestrian Accident Victims FAQs
Q: How Long After a Pedestrian Accident Can You File a Civil Suit?
A: If you intend to pursue a personal injury case in response to the pedestrian accident you experienced, you have three years from the date the accident occurred to file your claim. Failure to meet this statute of limitations could mean losing your ability to recover compensation from the at-fault driver, so it's important to consult an experienced Valdese pedestrian accident attorney as soon as possible after your accident.
Q: How Do I Prove Fault for a Pedestrian Accident?
A: A driver always has a duty of care to prevent collisions with pedestrians and to yield the right-of-way to pedestrians at all times. Proving fault for a pedestrian accident may entail traffic camera footage, eyewitness statements, the at-fault driver's cell phone records, and more. Your Valdese pedestrian accident attorney can help gather the evidence you will need to firmly establish liability for your damages.
Q: Can I Still Claim Compensation if I Was Jaywalking?
A: North Carolina upholds the contributory negligence rule, meaning that if a plaintiff bears partial responsibility for causing their claimed damages, they lose the right to seek compensation from the defendant in their claim. Jaywalking is crossing the street illegally outside of the designated crosswalk. If a pedestrian contributes to causing their own accident in this manner, this could prevent them from seeking compensation from the defendant.
Q: What Is the Penalty for a Hit and Run?
A: Hit and run can qualify as a misdemeanor in the state if it only results in property damage, but if a hit and run driver strikes a pedestrian, they are more likely to face a felony charge. Penalties for hit and run can include fines, jail time, and additional penalties assigned at the discretion of a judge. The at-fault driver will also be liable for the victim's civil damages.
Q: How Much Does It Cost to Hire a Valdese, North Carolina, Pedestrian Accident Attorney?
A: Most of the personal injury attorneys representing clients in Valdese accept cases on a contingency fee basis, meaning they will only take a fee from a client after they win their case, and the fee is a percentage of the total case award. If the attorney is unable to secure a case award for the client, the client pays nothing in legal fees. Other attorneys charge by the hour for their legal counsel, and this can be very expensive for a complex case. Verify a potential attorney's billing policy before agreeing to their representation.
The attorneys at Helton, Cody & Associates, PLLC, have successfully represented many clients in the Valdese area in all types of personal injury cases. We know how damaging a pedestrian accident can be and the various legal challenges a victim is likely to face in the aftermath of this kind of accident. If you need legal counsel you can trust to help you recover from a recent accident; we can help. Contact us today to schedule your consultation with a Valdese pedestrian accident attorney and learn more about the legal services we provide.