Valdese Wrongful Death Lawyer
When one party's negligence or intentional misconduct injures a victim in Valdese, North Carolina, this can form the basis of a personal injury claim. However, if the victim does not survive, the at-fault party becomes liable for wrongful death. Though functionally similar to a personal injury case in several ways, there are specific rules for wrongful death suits that you must understand if you intend to file this type of civil suit against another party in Valdese.
Compassionate Wrongful Death Counsel in Valdese, NC
An experienced Valdese wrongful death attorney is an invaluable asset for your impending case. When you have legal counsel you can trust on your side, it is much easier to confront the emotionally stressful elements of your case proceedings, and your family will be more likely to maximize the compensation they receive from the defendant. The attorneys at Helton, Cody & Associates, PLLC, offer compassionate and comprehensive legal counsel for wrongful death suits in Valdese. We have helped many families overcome these cases successfully and can apply this experience to your claim.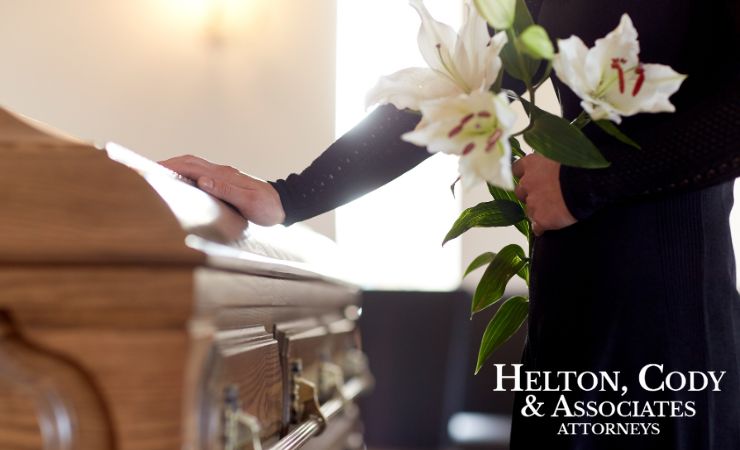 Understanding Wrongful Death Laws
A wrongful death suit effectively takes the place of a personal injury claim when the victim of a personal injury does not survive. Wrongful deaths can happen in many ways that implicate others are liable, such as motor vehicle accidents, slip and fall injuries on private property, workplace accidents, and more. If you recently lost a loved one and believe you have grounds to file a wrongful death suit, the first legal challenge you face is proving the exact cause of the death.
Once the cause of death is proven, the personal representative of the deceased's estate can proceed with filing a wrongful death claim against the party responsible for the death. Similar to a personal injury claim, the plaintiff has the right to seek compensation for both economic and non-economic damages caused by the defendant. However, while a personal injury claim focuses on the victim's losses, a wrongful death claim aims to compensate the beneficiaries of the decedent.
Your Valdese wrongful death attorney can help recover compensation for the financial support the deceased can no longer provide, funeral and burial expenses, and any other financial losses caused by the death. Additionally, the surviving family of the deceased has the right to claim compensation for their pain and suffering. There is no limit on pain and suffering compensation in most wrongful death claims in the state, and your Valdese wrongful death attorney can be an essential asset for making the strongest possible case for maximum pain and suffering compensation.
Helton, Cody & Associates, PLLC, has the professional resources and experience you need on your side to reach the optimal outcome to your impending wrongful death suit. Our firm has helped many past clients overcome these cases with confidence, and we are ready to apply our experience to your wrongful death suit in Valdese. The sooner you contact our firm, the more time we have to build the most compelling case possible for you and your family.
Wrongful Death Claim FAQs
Q: How Long Do You Have to File a Wrongful Death Suit?
A: There is a two-year statute of limitations on wrongful death claims in North Carolina. The personal representative of the deceased's estate must submit their wrongful death suit to the court no later than two years from the date of the death. However, if the cause of death can't be immediately determined, the discovery rule may apply, and the statute of limitations begins on the date the cause of death is discovered.
Q: Will the Defendant Go to Jail for Causing a Wrongful Death?
A: It is possible for the defendant in a wrongful death suit to face criminal prosecution, depending on how they caused the death. If they inflicted a fatal injury in the course of breaking any state law, criminal prosecution is very likely, and they will face harsher penalties in sentencing due to causing a fatal injury. Driving under the influence (DUI) and violent crime are common examples of illegal misconduct that can cause fatal harm to victims.
Q: Who May Bring a Wrongful Death Claim?
A: Under North Carolina law, only the personal representative of the deceased's estate may file a wrongful death suit. However, if the deceased did not have an estate or did not name a personal representative or executor, the surviving beneficiaries of the deceased can petition the court to appoint a personal representative who will then have the right to file the wrongful death claim.
Q: How Much Is a Wrongful Death Claim Worth in Valdese?
A: The purpose of a wrongful death suit is to compensate the family of the victim for their pain and suffering and the financial impact of losing the victim. Your Valdese wrongful death attorney can provide an estimate of the total potential value of your claim, including lost financial support, lost value of household services, and the amount of pain and suffering you can seek from the defendant who caused the death.
Q: What Does It Cost to Hire a Valdese Wrongful Death Attorney?
A: Most wrongful death attorneys operate on a contingency fee basis. This means a client pays a percentage of their final case award to their attorney at the end of their case, but only if they win. There are no fees if the attorney is unable to secure compensation for their client with a contingency fee agreement. Some attorneys charge hourly rates for representation. It is important to carefully review a prospective attorney's billing policy before signing a contract for their representation.
Losing a family member due to the negligence or illegal misconduct of another party can be a traumatic and frustrating experience, and the right Valdese wrongful death attorney can provide compassionate support and responsive legal guidance that are invaluable in this difficult situation. If your family is mourning a loved one and you believe you have grounds to file a wrongful death claim, we can help. Contact Helton, Cody & Associates, PLLC, today to schedule your consultation with a Valdese wrongful death attorney.