A "personal injury" is any incident in which one party causes physical harm and/or economic losses to another party. Under North Carolina law, the victim of a personal injury has the right to seek compensation for the damages they incurred because of the other party's actions. This may sound simple enough, but filing a personal injury claim in North Carolina is likely to be more challenging than you initially expected.
If you believe any other party is responsible for causing an injury to you or a loved one, a personal injury claim can potentially help you secure compensation for the effects of their actions. While it's technically possible to pursue compensation on your own, you are far more likely to succeed with any type of personal injury case when you have experienced legal counsel advising you.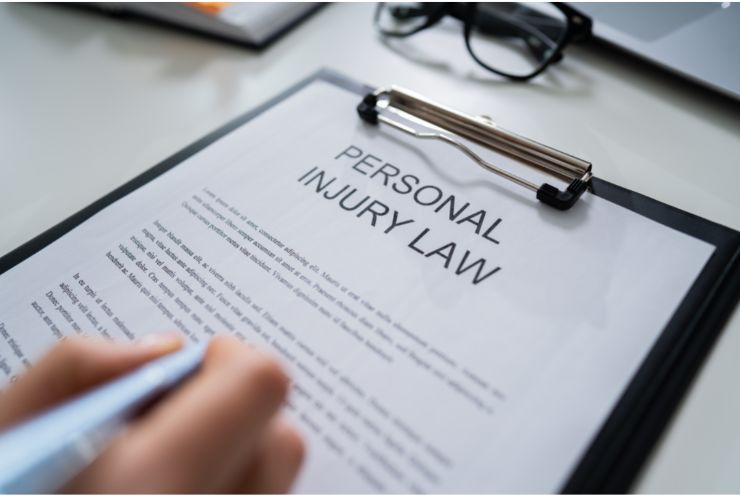 Proving Who Is at Fault in a Personal Injury
Most of the personal injury claims filed each year pertain to acts of negligence. "Negligence" is the legal term used when someone fails to exercise reasonable care in a specific situation. Every adult is expected to use appropriate caution in various situations and to take reasonable steps to prevent injuries to others. For example, a driver has a duty of care to heed traffic signals and speed limits and to operate their vehicle attentively.
Success with your impending personal injury case will likely require identifying the party or parties responsible for causing the personal injury and then proving they failed to act with reasonable care in the situation in question. For example, you may need to prove they took some specific action that caused your damages directly, or you might need to show that they failed to take appropriate action when another reasonable person in the same situation would have acted appropriately.
It is also possible for a personal injury claim to revolve around an act of intentional misconduct or criminal behavior. For example, if you were hit by a drunk driver and suffered injuries, they are likely to face criminal prosecution with enhanced penalties, and you would also have the right to pursue a personal injury claim against them to seek compensation.
Claimable Damages in a North Carolina Personal Injury Case
When another party has harmed you, you have the right to seek full repayment of all the economic losses you suffer because of their actions. In the event a plaintiff has sustained a catastrophic injury, they could face a host of immediate and long-term damages they cannot accurately calculate on their own. Therefore, for the best chance of maximizing the recovery you obtain for a personal injury, it's vital to have an experienced legal team handling your case.
You have the right to recover compensation for medical expenses, ongoing medical treatment costs, property losses, lost income, and lost future earnings resulting from the defendant's negligence or misconduct. Your personal injury attorney can help you gather whatever materials and evidence you may need to prove liability for the damage you received, and they will also help you secure appropriate compensation for the physical pain, emotional distress, and mental trauma you experienced from your personal injury.
FAQs About North Carolina Personal Injury Laws
Do I Really Need to Hire a Lawyer to File a Personal Injury Claim in North Carolina?
No, there is no legal requirement to hire legal counsel if you intend to file a personal injury claim. However, you are far more likely to succeed with your claim when you have reliable legal counsel advising you. The right attorney can improve the outcome you reach in your claim significantly, and they are also likely to secure far more compensation than you could have expected to obtain on your own.
How Much Compensation Can I Receive for a Personal Injury in North Carolina?
The potential value of your final case award hinges on multiple factors, such as the total amount of economic damages the defendant caused and the scope of long-term or permanent issues you are likely to face because of your injury. You also have the right to recover compensation for the pain and suffering you experienced. If you want to maximize your case award for a personal injury, you need legal counsel you can trust from an experienced attorney.
How Much Can I Obtain in Pain and Suffering Compensation?
"Pain and suffering" may sound subjective and difficult to put into financial terms. State law does not limit pain and suffering for personal injury claims except in cases involving medical malpractice. As long as your case does not pertain to medical malpractice, there is no limit to the amount you can claim in pain and suffering compensation, but it must be reasonable based on the severity of your experience. A good attorney is the best resource to consult to determine how you can maximize your compensation for your personal injury.
How Much Does a North Carolina Personal Injury Attorney Cost to Hire?
Most of the personal injury attorneys representing clients accept cases on a contingency fee basis. This means there are no upfront legal fees for clients and no risk if the attorney fails to win the case for the client. Under a contingency fee agreement, the client pays nothing unless the attorney wins their case, and if they do, the fee is only a percentage of the final case award.
What Difference Can a Personal Injury Attorney Make in My Case?
The right attorney can have a tremendous positive impact not only on the quality of your experience in filing your personal injury case but also in securing far better results than you could have hoped to have seen on your own. Even after accounting for their fee, your attorney can easily improve the final value of your case by a substantial margin.
The attorneys at Helton, Cody & Associates, PLLC, are a team of experienced attorneys who know how disruptive any personal injury can be to a victim and their family. If another party is responsible for the damages and pain you recently experienced, we can help you hold them accountable with a personal injury claim. If you are ready to learn how an experienced North Carolina personal injury attorney can help you recover, contact us today to schedule your consultation with our team.