Valdese Motorcycle Accident Attorney
Motorcycles are popular in Valdese, North Carolina, and while most riders enjoy their time on their bikes without issue, motorcycle accidents do happen. Motorcycles are vulnerable to the same risk factors as all other vehicles, but they are inherently more dangerous than enclosed passenger vehicles due to their lack of safety features like seatbelts, airbags, and crash-resistant frames. While motorcycle accidents may be less common than other vehicle accidents, they tend to result in far worse damages.
Experienced Legal Representation for Motorcycle Accident Claims in Valdese, NC
If you or a family member recently suffered injuries and economic losses from a motorcycle accident that someone else caused, you have the right to hold them accountable for your damages. An experienced Valdese motorcycle accident attorney can provide the guidance and support you need in this difficult time, helping you understand the various options for legal recourse that may be available to you. Helton, Cody & Associates, PLLC, has years of personal injury experience we can leverage on your behalf in a motorcycle accident claim. The sooner you connect with our team, the more time we will have to build a compelling civil suit on your behalf.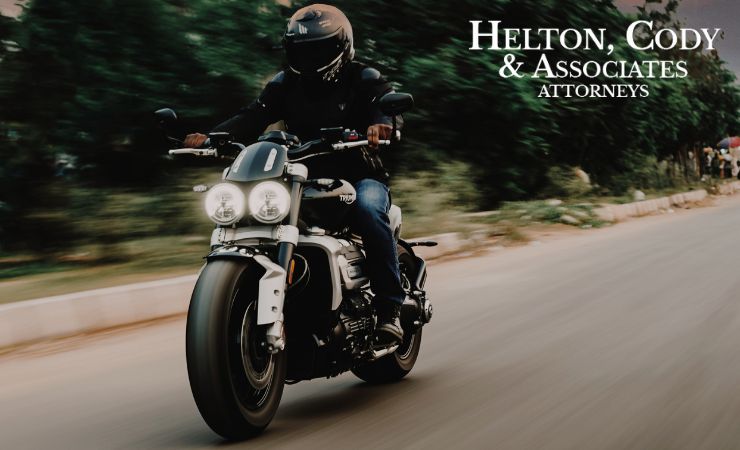 Proving Fault for Your Motorcycle Accident in Valdese
North Carolina law requires you to prove fault for your recent accident before you can recover any compensation for the damages you suffered. A few of the most commonly cited causes of motorcycle accidents in the Valdese area include distracted driving, speeding, and driving under the influence (DUI) of drugs or alcohol.
It is important to note that the state enforces a contributory negligence law, meaning any measure of fault on the part of the plaintiff negates their ability to claim compensation from a defendant. Contributory negligence can also interfere with your ability to file an auto insurance claim against another driver.
Recovering Compensation for Your Motorcycle Accident in Valdese
The first step in recovering from an accident is filing an auto insurance claim against the driver who caused your accident. State law requires every driver to have liability insurance to pay for damages they inflict on others in an accident. Dealing with insurance companies can be challenging, but having an experienced Valdese motorcycle accident attorney on your side can ensure you receive fair treatment and a reasonable settlement offer.
After you secure as much compensation as you can through insurance, the next step of your recovery process will be filing a personal injury claim against the defendant. Under North Carolina's personal injury laws, you have the right to seek compensation for:
Medical expenses. The defendant is liable for any and all medical care you need to fully recover from your accident, including future rehabilitative care.
Lost income. If you cannot work due to your accident, the defendant is liable for the income you are unable to earn during this time. This includes future income if your earning power has been permanently diminished by your injuries.
Property damage. If the at-fault driver's insurance does not fully compensate your vehicle repair costs, you can include the remainder in your civil suit.
Pain and suffering. State law enables you to seek compensation for the physical pain, psychological distress, and trauma you experienced due to the defendant's actions.
Your claim may be worth more than you initially expected, and hiring the right attorney to represent your case increases your chances of maximizing your compensation. When you choose Helton, Cody & Associates, PLLC, to handle your motorcycle accident claim, our goal is to help you recover as much compensation as state law allows for your damages.
Motorcycle Accidents FAQs
Q: When Should I Hire a Lawyer for a Motorcycle Accident in Valdese, North Carolina?
A: You could face a complex series of legal issues in the aftermath of a motorcycle accident. If you want to ensure the fullest recovery possible, it's important to secure legal representation as soon as you can following initial recovery. The sooner you hire an attorney, the more time they will have to handle your case. Swift legal action also helps preserve the integrity of the evidence you may need to succeed with your claim.
Q: What Type of Compensation Can I Receive for a Motorcycle Accident?
A: If you can prove another driver is directly responsible for causing your recent motorcycle accident in Valdese, you have the right to hold them fully accountable for all financial losses they inflicted with their negligence or misconduct. You can claim compensation for medical expenses, lost income, property damage, and the long-term impact of the accident if you suffered severe injuries. For example, you can hold the defendant accountable for future medical care and diminished earning capacity. North Carolina personal injury law also allows you to claim pain and suffering compensation.
Q: How Long Do I Have to File a Personal Injury Claim for a Motorcycle Accident in Valdese?
A: The state enforces a three-year statute of limitations for personal injury claims, meaning you have three years from the date of your motorcycle accident to file a personal injury suit against the driver who caused it. However, auto insurance is likely to be your first option for recovering your damages and you have a much shorter time in which to file your insurance claim. Once you receive medical care for your injuries, reach out to an experienced attorney as soon as possible to start your recovery process.
Q: How Much Are Attorneys' Fees for a Motorcycle Accident Claim in Valdese?
A: Most personal injury attorneys accept cases on a contingency fee basis. This means the attorney only collects a fee from their client if and when they win their case, and the fee is a percentage of the total amount recovered for the client. Some attorneys bill their clients by the hour, so spending more time on a case means greater legal fees for the client. Make sure you fully understand a potential attorney's billing policy before signing a contract for their representation.
Helton, Cody & Associates, PLLC, provides client-focused legal counsel in every case we accept. We take time to learn as much as possible about each individual client's damages, needs, and concerns. We attentively address any questions and concerns as they arise and always seek maximum compensation for our client's damages in every case we accept. If you are ready to learn how an experienced Valdese motorcycle accident attorney can assist you with your recovery efforts, contact us today and schedule a consultation with our team.