Morganton Truck Accident Attorney
Commercial trucking is an essential component of the US economy, and thousands of North Carolina businesses and communities across the state rely on commercial trucks for the goods they need every day. Truck drivers are responsible for transporting billions of tons of cargo across the country every year, and while most drivers and their employers handle their responsibilities well, others do not. Truck accidents can and do happen in North Carolina, usually with devastating consequences.
Any motor vehicle accident in North Carolina has the potential to cause catastrophic or fatal injuries to those involved, but this risk is much greater whenever an accident involves a large commercial truck. A fully loaded tractor-trailer, for example, can weigh as much as 80,000 pounds and stand more than 13 feet off of the ground, easily dwarfing the size of most passenger vehicles on North Carolina roads. This makes the vehicle incredibly dangerous if the driver loses control or if some other factor causes it to collide with another vehicle.
When truck accidents happen, determining liability is paramount for anyone injured. North Carolina uses a fault-based system to resolve motor vehicle accident claims, meaning whoever causes an accident assumes liability for all resulting damages. Unfortunately, determining liability for a truck accident can be far more challenging than discerning fault for a standard passenger vehicle accident. It is possible for multiple parties to bear fault for your damages, and you likely face multiple important steps before recovery.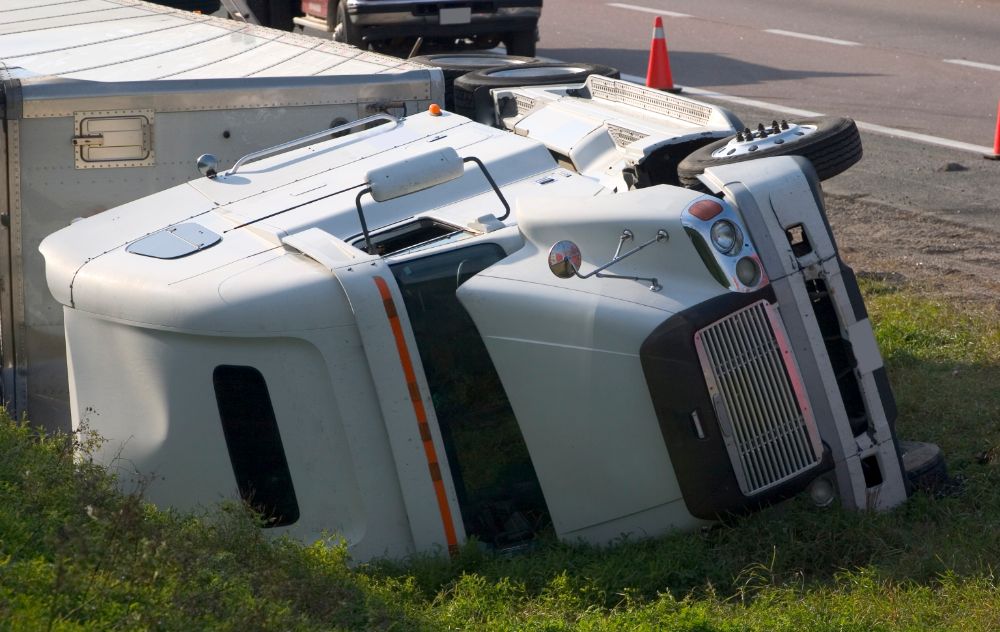 Benefits Of Legal Counsel in an 18-Wheeler Injury Claim
It's understandable to have many pressing legal questions and critical financial concerns after a serious motor vehicle accident, but the right attorney can help you navigate these issues with greater confidence and peace of mind. Truck accidents tend to cause severe injuries, and these injuries generate expensive medical bills and further financial strain from an inability to work. These effects can quickly compound to create a desperate financial situation for the victim and their family.
You have a limited time in which to file your insurance claim after any vehicle accident in North Carolina, and further legal recourse through a civil suit is likely to be necessary to recover from a serious truck accident. When you have a Morganton truck accident attorney assist you with your recovery efforts, you are more likely to succeed and maximize the final compensation you obtain.
Law Office of Lyndon R. Helton, PLLC is a team of experienced North Carolina personal injury attorneys with many successful cases behind us. Our client-focused approach to personal injury representation means you will have a dedicated legal advocate as soon as you secure our firm's counsel. We'll listen to your account of the event and review any documentation and reports related to your accident. Our goal is to help you clearly understand all of your options for legal recourse so you can make informed decisions about your recovery efforts.
Your legal team can assist you with the procedural side of your case so you can focus on your medical recovery. They will handle court filings, pretrial motions, and other preliminary steps in your case on your behalf. When it comes to starting your recovery efforts, insurance is typically the first step in securing compensation for any motor vehicle accident. Your attorney can guide you through this process before building a personal injury claim to recover any losses not covered by insurance.
There are many ways for any civil claim to unfold, and truck accident cases tend to generate complex questions of liability for substantial damages. Having a legal advocate you can trust in this situation is an invaluable asset. When you choose Law Office of Lyndon R. Helton, PLLC to represent you in a truck accident claim, you can expect the full scope of our professional resources and our experience at work in your case. The sooner you secure legal counsel, the more time your legal team has to prepare a compelling and effective case that's likely to succeed.
Proving The Cause of Your Recent Truck Accident
Recovery from any serious vehicle accident is likely to require both an auto insurance claim and a personal injury suit against the at-fault driver. However, you must first accurately determine who is at fault for the accident before taking any formal legal steps toward recovery. If you were seriously injured in the accident, you may have little to no recollection of the incident. Otherwise, you should do your best to convey your account of the accident to your attorney.
Commercial truck accidents happen for many of the same reasons that all other vehicle accidents happen. Driver inattention, speeding, and reckless driving can all contribute to causing truck accidents in North Carolina. However, large commercial trucks have various other inherent dangers all drivers must acknowledge. Some of the most common causes of commercial vehicle accidents in the Morganton area include:
Improper vehicle loading. Large tractor-trailers and other commercial trucks required to transport heavy cargo must be loaded correctly. If a truck's cargo isn't properly balanced and secured, cargo can shift and move during transit and potentially throw the vehicle off balance. Improperly secured cargo can also become dislodged and cause a dangerous hazard for all drivers nearby.
Truck driver negligence. Truck drivers are held to a higher standard of care than individual drivers since operating dangerous commercial vehicles is their primary job duty. When a truck driver is negligent in any way behind the wheel, it is possible for them to be held solely liable for a resulting accident, but their employer may also incur liability depending on how and why the accident happened.
Trucking regulation non-compliance. Due to the critical importance of commercial transportation in the US, the trucking industry is one of the most heavily regulated in the country. When trucking companies or their employees fail to abide by applicable regulations, they put themselves and others at extreme risk. Accidents resulting from regulatory non-compliance could lead to substantial punitive damages for the victim and heavy fines for the company at fault.
Driving while intoxicated (DWI) by drugs or alcohol. It is extremely dangerous for anyone to operate a motor vehicle under the influence of alcohol or any drug, and it is also illegal. When truck drivers cause an accident because of DWI, they are likely to be held liable for the resulting damages, lose their commercial driver's license (CDL), and face prosecution for violating North Carolina's DWI laws.
These are only a few possibilities. The reality is that countless unpredictable causes can potentially result in a devastating truck accident. Some of these incidents involve multiple injured drivers, and disputes over fault can easily arise very quickly. It is also possible for vicarious liability to come into play if a trucking company or other employer bears liability for the actions of a truck driver or other employee.
Proving Fault for A Truck Accident
The first step in your recovery efforts from a serious truck accident should be to accurately determine fault for the incident. Your attorney can assist you in gathering physical evidence, eyewitness statements from anyone who saw the accident happen, and even testimony from expert witnesses to support your case. Your legal team will review the police report from the incident and any other relevant records to help you determine how your accident happened and who is responsible.
North Carolina is a 'fault state' when it comes to auto insurance coverage, meaning all drivers in the state must have insurance coverage that meets the state's minimum coverage requirements. Trucking companies typically have more expansive insurance coverage for their drivers, and some truck drivers may have individual coverage. Ultimately, when the responsible party is identified, you would file your auto insurance claim against their policy. Compensation through insurance must be exhausted before proceeding with a civil claim.
Law Office of Lyndon R. Helton, PLLC can help our client determine who is responsible for causing their recent accident. We have helped many past clients successfully navigate heavily contested civil suits, including those pertaining to truck accidents. Whether your case involves a single defendant or multiple defendants sharing liability for your damages, we can help you hold them appropriately accountable.
What To Expect in An Auto Insurance Claim
Filing a claim for auto insurance may seem simple enough at first, but the reality is that no insurance company has any incentive to pay a claim. Most insurers do everything they can to justify lowball settlement offers or deny claims whenever possible, but they must handle all claims in good faith. Some insurance companies, unfortunately, attempt to coerce claimants into accepting lowball settlements by preying on their desperation and lack of awareness of their rights in the aftermath of an accident.
Having an experienced Morganton truck accident attorney assist you with your auto insurance claim can significantly reduce the chances of experiencing any unfair or unethical treatment from the insurance company. You are also more likely to obtain your settlement within a reasonable time with your attorney's assistance. Should any disputes arise with the insurer, your attorney can correspond with them on your behalf until you reach an appropriate settlement.
It's important for anyone who experiences a truck accident to know that while insurance may offer some initial relief from an accident, any collision involving a large commercial vehicle is highly likely to cause extreme injuries. The total damages from your recent truck accident may exceed the at-fault driver's auto insurance coverage. If you find yourself in this situation, or if the at-fault driver does not have insurance, a personal injury claim against the at-fault driver is likely to be your best option for recovery.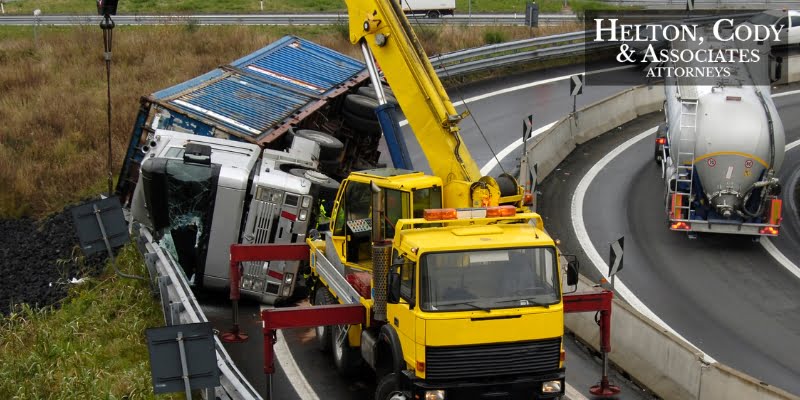 Filing Your Personal Injury Suit In North Carolina
A civil suit for damages can potentially help you and your family recover any losses not covered by an at-fault driver's auto insurance policy. North Carolina law allows the plaintiff in a personal injury case to seek full repayment of any and all economic losses they suffered because of a defendant's negligence or misconduct. Your attorney will help you draft your complaint against the at-fault driver, explaining why they are responsible for your damages and providing a complete list of those damages.
North Carolina's personal injury statutes allow the plaintiff, or accident victim, to seek full compensation for all medical expenses incurred due to the actions of the defendant. While their auto insurance policy may offer some initial relief from physical injuries, any outstanding losses, as well as long-term medical expenses, can be included in the personal injury suit against the defendant.
When a plaintiff is unable to work because of their personal injury, the defendant becomes responsible for the income they lose during their recovery. Should the plaintiff be entirely unable to work due to the severity of their injury, the defendant faces liability for their lost future earning potential as well. The plaintiff's vehicle was likely severely damaged or destroyed in the accident, and they can include vehicle repair costs and any other property losses as economic damages in their civil suit.
Beyond these economic damages, plaintiffs may also seek compensation for the pain and suffering they experienced. Your Morganton truck accident attorney will be an invaluable resource when it comes to determining a suitable amount to include in your claim. North Carolina does not cap pain and suffering damages in truck accident cases, and if you sustained any permanent harm, your pain and suffering compensation may form the bulk of your final case award.
What To Expect from Your Attorney
An experienced Morganton truck accident attorney is an invaluable asset, no matter what your injury case may entail. For example, if the defendant claims you were partially responsible for your accident, you could lose your ability to recover your damages due to North Carolina's Contributory Negligence law. Without an attorney, the average person may have no idea how to disprove this type of claim, potentially jeopardizing your case.
This is just one example of why you need legal counsel you can trust for any kind of personal injury case in the Morganton, NC area. It's also possible you may require expert witness testimony to explain the physics in play in your accident and prove fault beyond any doubt. Your attorney can help you establish fault for your recent accident, guide you through the insurance claim process, and assist you in building a civil case against the defendant when insurance alone can't cover your losses.
Ultimately, you have the best chance of recovering your losses from a truck accident as fully as North Carolina law allows with the right attorney assisting you. When you choose Law Office of Lyndon R. Helton, PLLC to represent you in a commercial truck accident case in Morganton, you can expect responsive communication with our team and readily available answers to your legal questions throughout all stages of your recovery efforts.
Truck Accident FAQs
Q: How Much Is My Truck Accident Claim Worth?
A: The total value of any motor vehicle accident claim depends on the scope of the damages involved. You have the right to seek full compensation for any economic losses you sustained in a truck accident from the party responsible for causing the accident. Recovery is likely to require an auto insurance claim and a civil suit when insurance can't cover the victim's damages. Your Morganton truck accident attorney can give an estimate of your claim's total potential value.
Q: How Long Will My Claim Take to Settle?
A: If liability for your recent accident is clear and an insurance claim can cover your total losses, you may be able to resolve your truck accident claim relatively quickly with an attorney's help. However, if liability is contested, or if you sustained substantial damages that insurance alone cannot repay, a personal injury claim will take much longer to resolve. You may be able to reach a privately negotiated settlement with the other party, or you may have to resolve your case at trial.
Q: How Much Does it Cost to Hire a Morganton Truck Accident Attorney?
A: It's natural to worry about potential legal fees when you are already struggling with the economic impact of your recent accident. Most personal injury attorneys in North Carolina bill their clients with contingency fee agreements, ensuring no upfront costs for the client and no fees at all if the attorney does not secure a settlement for the client. Verify any prospective attorney's billing policy before signing a contract for their representation.
Q: Is it Worth Hiring a Morganton Truck Accident Attorney?
A: Even if liability for your recent accident seems perfectly clear and you believe you have a firm grasp of your claimable damages, you are far more likely to reach favorable results in your truck accident claim when you have legal counsel you can trust. When you calculate the cost of hiring your attorney compared to the difference they can make in the quality of your recovery, the value of hiring your Morganton truck accident attorney will be easy to see.
Law Office of Lyndon R. Helton, PLLC has extensive personal injury experience in the Morganton area. We have helped many past clients recover substantial case awards, including plaintiffs who were injured in 18-wheeler and other commercial vehicle accidents. Contact our team today and schedule a consultation with a Morganton truck accident attorney to learn more about the legal services we provide.