Newton Truck Accident Attorney
Large commercial trucks are common sights on North Carolina roads, and most motorists encounter these large vehicles without experiencing any problems. However, truck accidents can and do occur for many reasons in the Newton area, often with devastating effects on those involved. If you or a family member is struggling with injuries and other losses sustained in a truck accident that someone else caused, you must know your legal options for recovering from the incident.
Legal Representation for Victims of Truck Accidents in Newton
An experienced Newton truck accident attorney is the ideal asset to have on your side in this situation. When you have legal counsel you can trust to advise you, you eliminate the risk of making procedural mistakes in the early stages of your case that can interfere with your recovery. The team at Helton, Cody & Associates, PLLC, has years of professional experience in personal injury law in Newton, and we are ready to leverage this experience on your behalf as you seek compensation for the damages you suffered.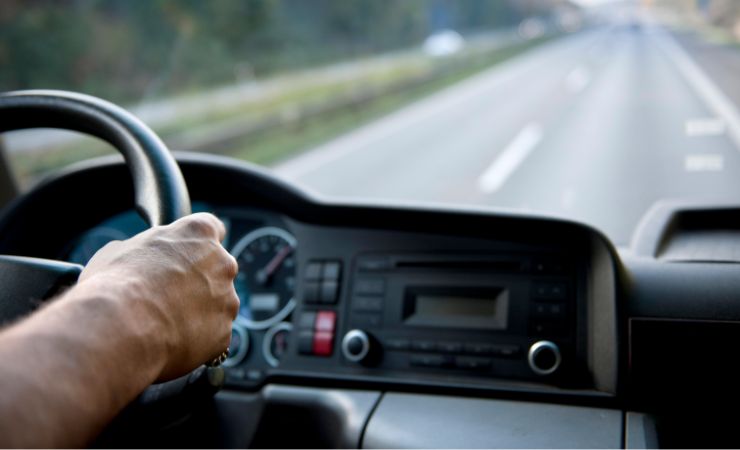 Common Causes of Truck Accidents in Newton
Before the victim of a truck accident can obtain any kind of compensation for their damages, they must establish fault for the incident and identify the party or parties responsible for causing the truck accident in question. While truck accidents happen due to the same risk factors that all other vehicle accidents happen, the large sizes of these vehicles introduce a few unique safety hazards that can easily lead to devastating crashes:
Improperly loaded cargo. Large tractor-trailers must be packed correctly; otherwise, they can become unbalanced in transit, leading to tip-over or rollover crashes. In addition, trucks carrying special cargo like smaller vehicles, lumber, and construction materials require special safety measures to keep cargo safely contained in transit.
Faulty maintenance. Commercial trucks spend more time on the road than most passenger vehicles and have larger, more complex internal components. This means that commercial trucks have more extensive maintenance requirements, and failure to perform this maintenance in any way resulting in an accident will lead to liability for the resulting damages falling to whatever party is responsible for maintaining the truck.
Trucking industry regulation noncompliance. The trucking industry is heavily regulated at the federal level, and most US states enforce their own regulations pertaining to commercial truck safety. Failure to abide by applicable regulations in any way resulting in an accident could mean liability for the truck driver and/or their employer.
Truck accidents may also occur through standard forms of negligence such as distracted driving, moving violations, and speeding. Intentional misconduct such as excessive speeding, reckless driving, and driving under the influence of alcohol or drugs may also cause accidents, but any intentional misconduct behind the wheel is also likely to lead to criminal charges for the at-fault party as well.
One legal issue that commonly arises in truck accident claims is vicarious liability. This is a legal term used to describe a situation in which one party is indirectly responsible for the actions of another party. When it comes to truck accidents, this typically means that the truck driver's employer shares fault for the actions of the driver, therefore absorbing partial liability for the resulting damages from the accident. For example, if a truck driver fails to abide by industry regulations in a manner causing a truck accident, but an investigation shows their employer never enforced the regulations in question, this will likely bring vicarious liability into play.
Recovering Compensation for a Truck Accident in Newton
After you and your Newton truck accident attorney have established fault for your recent accident, the next step in your truck accident case is proving the full extent of the losses you experienced from the accident. Under North Carolina law, all drivers must have auto insurance, and this rule extends to commercial truck drivers. In fact, most commercial trucking companies have auto insurance coverage that surpasses the state's minimum coverage requirements. However, this does not mean that an insurance claim alone will be enough to fully compensate your damages from an accident.
If you can prove that another party is fully liable for the damages you suffered in a truck accident, you have the right to seek compensation for:
Medical treatment costs. The defendant who injured you is liable for the cost of any and all medical treatment you need to reach maximum recovery. This includes future and ongoing rehabilitative care for severe injuries.
Lost income. If you cannot work because of your injuries, the defendant is liable for the income you are unable to earn during your recovery. If you suffered a permanent disability from your accident, the defendant is also liable for future income you can no longer earn.
Property damage. An auto insurance claim may help you recover some or all your vehicle repair costs. However, any outstanding property losses not covered by insurance can be included in your personal injury claim.
Pain and suffering. State law allows a personal injury plaintiff to hold a defendant accountable for the physical pain and psychological distress they experienced. There is no limit to the amount the plaintiff can seek in a truck accident claim. If the plaintiff experienced any catastrophic injury resulting in permanent disability, their pain and suffering compensation could form the bulk of their total case award won from the defendant.
In the event that your truck accident resulted from illegal misconduct of any kind, the defendant could face punitive damages along with the rest of the compensation they owe to you. Your Newton truck accident attorney will advise you as to how the nature and severity of the defendant's actions that caused your accident could impact your final case award.
When you choose Helton, Cody & Associates, PLLC, to represent you in a truck accident case, we will do everything we can to maximize the results of your recovery efforts. We have experience dealing with the biggest auto insurance carriers in the state and we know the tactics they often use to try to avoid liability for accident claims. We also know how to uncover the various channels of compensation that are likely available to you in a personal injury case. Our goal is to settle your claim as swiftly as possible for the maximum compensation possible, but we are fully prepared and willing to take your case to litigation if necessary.
Trucking Accident Lawyer FAQs
Q: How Can Newton Truck Accident Lawyers Help?
A: Truck accident claims tend to involve more complex legal issues than standard passenger vehicle accident cases. You could face issues like vicarious liability, complicated insurance claim disputes, and more significant damages. Having an experienced Newton truck accident attorney represent your claim means a higher chance of success and a greater likelihood of maximizing your final compensation.
Q: Who Is at Fault for a Rear-End Collision?
A: Whenever one driver hits another driver's vehicle from behind, it is almost always the trailing driver's fault. Drivers are expected to leave space between their vehicle and the vehicle in front of them to avoid collisions when traffic patterns suddenly change or when a leading driver applies their brakes. However, the leading driver could face partial liability if they have broken brake lights they did not fix, preventing the trailing driver from knowing when they were applying their brakes.
Q: Can a Plaintiff Bear Partial Liability for a Truck Accident?
A: Some states uphold comparative negligence laws that permit plaintiffs in personal injury cases to share fault with defendants but still recover partial compensation for their losses. North Carolina does not, and instead enforces the contributory negligence rule. Under this rule, a plaintiff loses their right to seek compensation from a defendant if they are found even slightly at fault for causing their claimed damages.
Q: How Much Compensation Can I Claim for a Truck Accident?
A: If you are able to prove another party is fully responsible for the truck accident you recently experienced, state law allows you to seek full repayment of all the economic losses you suffered from their actions. This includes property damage, lost income, and medical expenses for treatment of your injuries. You also have the right to seek compensation for the pain and suffering you experienced. Your Newton truck accident attorney will help you determine the full scope of damages you can legally include with your claim.
Q: How Long Do I Have to File a Personal Injury Claim?
A: The statute of limitations for personal injury claims throughout the state is three years. This time limit begins on the date an injury occurs. However, you have a much shorter timeframe in which you must file an auto insurance claim against the driver who caused your accident. For the most optimal chance of success, consult a Newton truck accident attorney as soon as possible after your accident so they can start working on your case immediately.
The attorneys at Helton, Cody & Associates, PLLC, offer responsive and compassionate legal representation to victims of truck accidents and other types of personal injuries in Newton and surrounding areas of Catawba County. If you are ready to pursue legal action against the party or parties responsible for your recent truck accident, we are ready to assist you in your recovery efforts. Contact us today and schedule a free initial consultation with a Newton truck accident attorney to start working toward your recovery.