Newton Car Accident Attorney
Driving is a daily activity for many people. Although most people are careful when they get behind the wheel, accidents can still happen. When they do, it is important to understand what to do, your rights, and things to look for to create a personal injury claim.
If a motor vehicle accident was caused by someone else's negligence, you can file a car accident claim against the driver and their insurance. You can then hold them financially accountable for the harm they have caused. The compensation that you earn can help you pay for key parts of the accident aftermath and ensure that you have the necessary resources to heal. However, getting this settlement is not easy and requires the help of a qualified car accident lawyer.
Our team at Helton, Cody & Associates, PLLC, is here to help you with your personal injury claim, whether it is the result of an automobile accident or something different.
Helton, Cody & Associates, PLLC: The Best Newton Car Accident Attorneys
For many years, our team at Helton, Cody & Associates, PLLC, has been helping individuals and families through the aftermath of vehicle accidents. We have seen firsthand how impactful these situations can be. Our automobile accident lawyers are experts at navigating the difficult terrain of a car accident case. During our long history in this industry, we have earned a positive track record in car accident claims. This makes our automobile accident attorneys the best representation for your case.
We fight diligently to make sure that you get what you deserve after someone else causes a car accident. No one should have to pay for damages or injuries that were not their fault. Our team is determined to make this a reality for our clients in Newton, NC.
Whether you have lasting, permanent injuries after a car accident or expect to make a full recovery, our team is here to represent you throughout your case. We are your best option in the Newton area.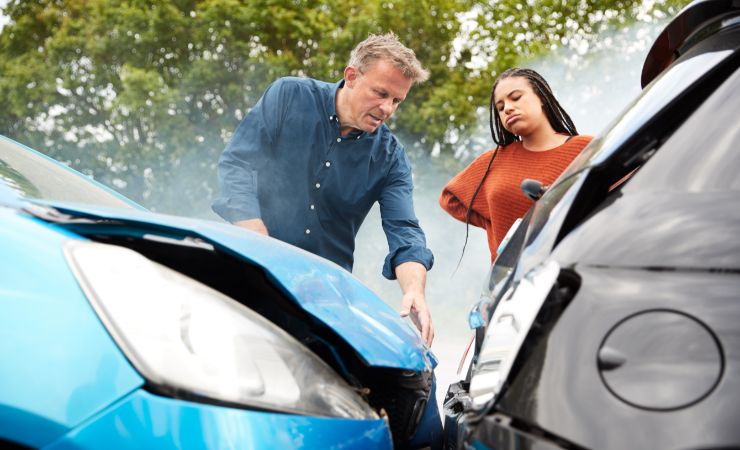 What Is an Automobile Accident Claim?
Although most people understand what a car accident is, many do not know how a car accident can become a legal matter. These cases are part of personal injury law, which is a large category of civil law that allows individuals or businesses to press charges against other individuals or businesses when they cause harm.
The key to personal injury claims, including car accident claims, is proving negligence. For these claims to be valid, the person who caused the accident must have done so by neglecting their legal or ethical responsibility. If the accident occurred because of a mutual mistake, an act of nature, or some other unavoidable situation, you will be unable to file a personal injury claim against the responsible party.
Examples of negligence while driving include:
Texting, scrolling on apps, or talking on the phone
Applying makeup
Eating or drinking
Operating a vehicle while under the influence of drugs or alcohol (DUI)
Engaging in road rage
Speeding
Ignoring road signs or traffic signals
These are just a few examples of negligence while driving, and there are many more ways that a driver can be negligent. Any time a driver is not obeying every law, they are neglecting their responsibility as a licensed driver.
Proving Negligence in a Car Accident Claim
To achieve a settlement from your North Carolina car accident claim, you and your attorney must assemble proof that the driver was behaving negligently when they caused the accident. The type of evidence that you use will depend on your unique situation and the available evidence. Helpful types of evidence often include:
Video footage or CCTV footage of the accident
Photos of the accident scene
Photos of any injuries
Medical records
Eyewitness accounts
Your attorney will help you identify and assemble helpful evidence for your claim.
What to Do After a Car Crash
A bit of preparation and planning can help preserve your claim if you get into a car accident. Key evidence can be easily lost if you wait even a single day to begin building your case. Taking these steps after an accident can help your claim:
Take photos of the accident scene, including damage to both vehicles, debris, and damaged infrastructure.
Take photos of your injuries and the injuries of other victims, with their permission.
Exchange insurance and license information with the other driver.
Do not apologize, offer sympathy, or say anything that may imply that you were responsible in any way for the accident.
Ask any witnesses for their contact information.
Note any businesses or buildings nearby that may have footage of the incident.
Call your automobile accident attorney immediately.
Although these steps will not guarantee a settlement, they can certainly help build your case. Following them will give you the best possible chance of achieving the compensation that you deserve.
Insurance Companies and Automobile Accidents
Although many people believe that they need to speak with insurance companies following a car accident, it is best to wait until your automobile accident lawyer can be present or on the line for the discussion. Insurance companies, contrary to popular belief, do not want to help individuals after a car accident. In fact, they will do everything in their power to avoid paying for a settlement.
It is very common for insurance adjusters to call and imply that you have the legal obligation to give a statement. This is false. In most cases, they are trying to get you on the phone so that they can get you to admit fault or ruin your chances at a settlement. They will ask leading questions and often cause victims to make statements that inadvertently relinquish their right to file a claim.
In some cases, insurance companies have private investigators follow victims to track their daily activities. If your activities do not line up with your statement or claim, they will use this to avoid paying.
The safest option is to allow your attorney to handle all communication with insurance companies. Be sure to speak with your lawyer first to create a plan.
Car Accident Claims and Wrongful Death
Unfortunately, some people do not survive car accidents. If the car accident was caused by negligence, the family of the deceased may file a wrongful death claim against the person responsible. The requirements are similar to those in personal injury cases, but these claims deal with individuals who died from their injuries. If the family can prove that negligence was a key factor in the accident, they may be able to get compensation for:
Funeral and burial expenses
Lost income
Pain and suffering
Although this will not end the pain of losing a loved one, it can help give your family financial support while they grieve.
Car Accident Lawyer FAQs
Q: What Are the Most Common Lawyer Fees for Car Accidents in Newton, NC?
A: Most attorneys take between 33% and 40% of the settlement in car accident claims. However, some attorneys charge hourly for their services. It is important that you discuss attorney fees with any potential legal representation before you sign any contracts or hire them for your case. If you do not, you may not be able to afford consistent representation for your case.
Q: How Much Is Pain and Suffering Worth in North Carolina?
A: The state does not impose any limit on how much pain and suffering can cost. The only exception is medical malpractice claims, where pain and suffering compensation is capped at $500,000. The amount you can achieve will depend on the impact that the accident had on your life and how egregious the offense was. Pain and suffering compensation is usually only awarded in extreme cases.
Q: What Is the Average Payout for a Rear End Collision in North Carolina?
A: Because most rear-end collisions are fairly minor, the average settlement is around $15,000. If the victim suffered minor injuries, such as whiplash or minor back pain, this amount is appropriate. However, if the rear-end collision caused severe damage, it is possible to earn more. It is possible to earn less if the accident did not cause any major damage or injuries.
Q: How Do You Negotiate a Higher Settlement in an Auto Accident Claim?
A: Your settlement will increase in proportion to the amount that you have suffered. If you have serious injuries that impact your everyday life, future job choices, and lifestyle prospects, you can easily negotiate a higher settlement. No matter what kind of claim you have, it is best to have a highly qualified attorney represent you. Good legal representation is the best way to earn a higher settlement. People who represent themselves earn less than those who have attorneys.
Contact Helton, Cody & Associates, PLLC
Our team understands the complexity of car accident cases as well as the impact that good legal counsel can have on the outcome of a case. We are here to represent you throughout your claim. We can work to ensure that you have the best possible representation and chance of earning a settlement.
For more information, contact Helton, Cody & Associates, PLLC, online.