Newton Pedestrian Accident Attorney
Pedestrians face significant risks any time they walk in busy metropolitan areas around motor vehicle traffic. While most pedestrians in the Newton area are able to reach their destinations safely, pedestrian accidents can and do occur when drivers are negligent or engage in willful misconduct behind the wheel. If you have recently experienced a pedestrian accident, or if you are helping a loved one recover after being struck by a car, it's vital to know your options for recovering your damages as fully as possible.
Experienced Legal Representation for Pedestrian Accident Claims in Newton, NC
Helton, Cody & Associates, PLLC, comprises a team of seasoned attorneys ready to provide the compassionate legal support you need after experiencing a pedestrian accident in Catawba County. Our firm has a strong professional record of all types of successful personal injury claims in Newton, and we are prepared to leverage the full weight of our resources and experience in handling your recovery efforts. If another party has caused a devastating accident, there is no reason to shoulder the cost of their actions on your own. A successful personal injury claim can help you secure the compensation you deserve, and we will do everything we can to maximize your case award.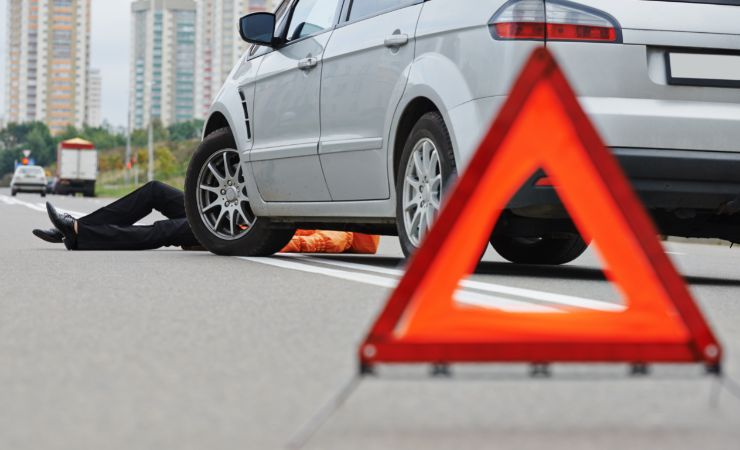 How to File a Personal Injury Case in North Carolina
Once you have experienced any type of injury due to the actions of another party, address your immediate medical needs and then consult a reliable attorney to help you take the next steps toward recovering your damages. Most personal injury cases filed arise from acts of negligence or failure to exercise reasonable care in specific situations. It is also possible for intentional and illegal misbehavior to cause a personal injury. Before you can obtain any type of compensation for your damages, you must prove how those damages occurred and identify the party responsible for causing your accident. A few commonly cited causes of pedestrian accidents in Catawba County include:
Distracted driving. This is the most commonly reported cause of motor vehicle accidents throughout the United States each year. Whenever a driver does not pay full attention to the road, they put themselves and others at risk. Inattentive driving is also highly dangerous around pedestrians as it is much easier for a distracted driver to fail to notice them than another vehicle.
Speeding. This not only increases the chances of a driver causing an accident, but also the severity of any resulting harm to others. Accidents at higher speeds are more likely to cause catastrophic injuries and deaths.
Moving violations. Performing illegal turns, failing to stop when and where appropriate, and failing to yield the right of way are just a few examples of how moving violations can potentially cause pedestrian accidents. When drivers engage in these behaviors intentionally, they could face reckless driving charges in addition to civil damages from pedestrians or other motorists.
Driving while intoxicated (DWI). It is illegal for any driver to operate any vehicle while under the influence of alcohol or drugs. A conviction for DWI carries harsh penalties, including fines, jail time, and driver's license suspension. These penalties are automatically increased when the DWI driver has injured or killed someone else with their behavior.
These are just a few examples of the ways that a driver can easily cause a devastating pedestrian accident. Whenever a motor vehicle hits a pedestrian, even at a relatively low speed, the pedestrian is likely to suffer severe injuries. The pedestrian can be injured not only from the initial impact of the vehicle hitting them but also from the secondary impact of hitting the ground with force.
Once you have determined the cause of your pedestrian accident and identified the driver responsible, your Newton pedestrian accident attorney will assist you in filing your personal injury claim.
When you choose Helton, Cody & Associates, PLLC, to represent your pedestrian accident claim, our goal is to help you secure maximum compensation for your damages in the most efficient manner possible. We'll help you gather the evidence needed to prove the full scope of your claimable damages and assist you in determining the most efficient path to recovery. Of course, we'll try to settle your case as quickly as possible if we can, but if litigation is unavoidable, you can rely on our team to provide the robust and compassionate legal representation you need to approach these proceedings with confidence.
Claimable Damages in North Carolina Pedestrian Accident Claims
To succeed with any personal injury case, you must have evidence to prove that another party not only caused the incident in question but also your resulting damages. You must prove you suffered tangible losses from their negligence or misconduct and provide proof of the full extent of those losses. Under state law, the plaintiff in a personal injury case has the right to seek compensation for:
Medical treatment. If the defendant caused physical injury to the plaintiff, the defendant is liable for the cost of treating their injuries until the victim reaches maximum medical improvement. Your Newton pedestrian accident attorney can help you prove the full scope of your immediate and future medical expenses resulting from your pedestrian accident.
Lost income. If you have been unable to work because of your injuries, the defendant who injured you is liable for the income you cannot earn during your recovery.
Lost earning potential. Unfortunately, many injured pedestrians are left permanently disabled by their accidents. If this applies to your situation, the defendant is liable for the future income you are no longer able to earn.
Pain and suffering. State law allows the plaintiff in a personal injury case to seek compensation for the physical pain and psychological suffering the defendant inflicted upon them. There is no limit to the non-economic damages you can claim for a personal injury, and your Newton pedestrian accident attorney will help you determine a suitable amount based on the severity of your condition.
North Carolina Pedestrian Accidents FAQs
Q: What Kind of Settlement Will I Receive for a Pedestrian Accident Injury?
A: If you can prove another party is entirely responsible for causing your pedestrian accident, they are liable for the full scope of economic damages you incurred. After calculating immediate and future financial losses, you can also seek compensation for the pain and suffering you endured. Your Newton pedestrian accident attorney will assist you in calculating your claim's total potential value.
Q: How Long Do You Have to File a Personal Injury Claim?
A: The state of North Carolina enforces a three-year statute of limitations for personal injury claims. You must file your case within three years of the date your injury occurred. Do not make the mistake of believing this is more than enough time, and you can wait until the last minute to begin your proceedings. It is always preferable to start your claim filing process as soon as possible to have the most optimal chance of winning fair compensation for your damages.
Q: How Much Pain and Suffering Compensation Can I Claim in My Case?
A: There is no limit on pain and suffering compensation in pedestrian accident claims. You can claim as much as you believe to be reasonable to reflect the severity of your condition following the accident. If you developed any permanent disabilities from the accident, your attorney might seek several times your total economic damages in pain and suffering compensation. If you are expected to make a full recovery in the near future, they may opt for seeking a per diem settlement instead that would award compensation every day until you reach maximum recovery.
Q: When Should You Hire a Newton Pedestrian Accident Attorney?
A: The victim of a pedestrian accident is likely to require extensive medical treatment after the accident. Once you have received the care you need, and your condition is stable, you should reach out to a trustworthy Newton pedestrian accident attorney as soon as possible. Swift legal action preserves your ability to recover damages and ensures the reliability of evidence and witness testimony you may require to establish fault for your accident.
Q: Is It Worth Hiring a Newton Pedestrian Accident Attorney?
A: You might think that hiring an attorney would be too expensive in light of the damages you have sustained from your accident. However, even after you account for the cost of hiring your legal team, their representation is likely to yield a far more expansive recovery than you could have hoped to secure on your own. Ultimately, it is always worth investing in legal counsel you can trust for any type of personal injury claim in Newton.
The team at Helton, Cody & Associates, PLLC, has years of professional experience assisting clients in Newton and throughout Catawba County with all types of personal injury cases, including those that arise from pedestrian accidents. We develop individualized legal strategies in every case we accept, taking time to learn as much as possible about each client's unique needs and concerns. So, if you are ready to explore your options for recovery with the help of a Newton pedestrian accident attorney you can trust, contact us today and schedule your consultation with our team.