Conover Wrongful Death Attorney
When someone's negligence or illegal misconduct harms another party, this is known as a personal injury. The victim in this situation has the right to seek compensation for their damages from the party responsible for causing the injury, and the right attorney is an invaluable asset in this situation. However, not every personal injury victim survives their experience. When the victim of a personal injury dies in Conover, NC, their family is likely to wonder what they can do to recover the associated damages and to ensure accountability for the at-fault party.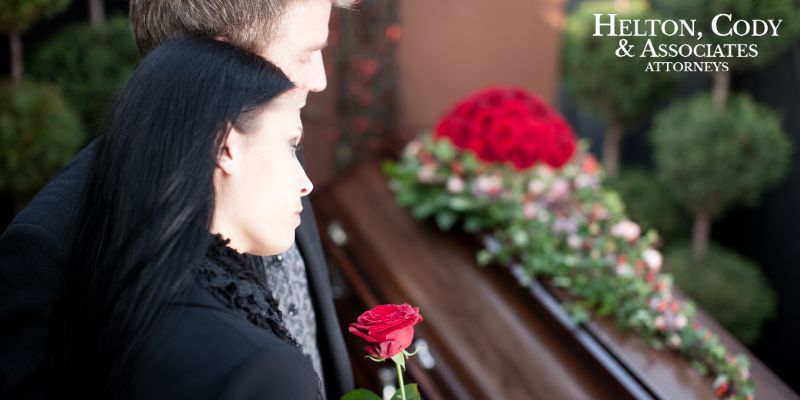 Experienced and Compassionate Wrongful Death Counsel in Conover, NC
A wrongful death claim can effectively replace a personal injury claim when the victim does not survive. This type of case, though similar to a personal injury case in many respects, requires experienced legal counsel from a seasoned Conover wrongful death attorney. If your family is mourning the loss of a loved one who died from an act of intentional misconduct or a failure to exercise reasonable care, you likely have grounds to file a wrongful death suit. The attorneys at Helton, Cody & Associates, PLLC, have extensive professional experience handling these types of civil claims in Catawba County and can provide the comprehensive representation you need in this difficult situation.
Recovery From a Wrongful Death in Conover
A personal injury claim can help the victim of another party's actions recover their damages, but if they do not survive the incident, their family is often left to wonder what they can do in response to the fatal injury. The personal representative of the deceased has the right to file a wrongful death claim in this situation, seeking compensation for the family's financial losses and ensuring appropriate compensation for their pain and suffering. While money cannot return a lost loved one, a case award from a successful wrongful death suit can provide the family with a sense of closure and the financial support they need to adjust to their new circumstances more easily.
Wrongful deaths may occur in many ways, from motor vehicle accidents to slip and fall accidents and workplace injuries. No matter how the wrongful death occurred, the first challenge you will face in your proceedings is proving fault. Once you have identified the party responsible for causing the wrongful death, the next step is proving the full extent of the damage they have done and securing compensation for your losses.
The attorneys at Helton, Cody & Associates, PLLC, have the resources and experience necessary to handle the most complex wrongful death suits in Conover. When you choose our firm to represent you, we can immediately begin gathering any evidence you will need to prove liability for the death. Once fault has been proven, we can help build a compelling complaint that seeks the maximum compensation possible under North Carolina law. We typically aim to settle clients' cases whenever possible, but if litigation is unavoidable, you can trust our firm to represent you through all your courtroom proceedings.
Wrongful Death Lawyers FAQs
Q: How Much Compensation Can Be Claimed in a Wrongful Death Case?
A: The objective of a wrongful death claim is to hold the defendant accountable for the death and to secure compensation for the victim's family. The plaintiff in a wrongful death suit can seek compensation for losses incurred by the deceased's estate, lost financial income provided by the deceased, lost value of household services, and the pain and suffering experienced by the victim's surviving family. Your Conover wrongful death attorney can help identify every form of compensation you can claim from the defendant in your case.
Q: Who Can Sue for Wrongful Death?
A: State law restricts the right to file a wrongful death claim to the personal representative of the victim's estate. If the victim did not have an estate plan, their surviving family members have the right to petition the court to appoint a representative. This individual will be responsible for filing the wrongful death suit with the goal of securing compensation for the decedent's beneficiaries.
Q: How Do You Prove Fault for a Wrongful Death in Conover?
A: Proving liability for wrongful death will require different things depending on how the death occurred. A combination of evidence may come into play, including physical evidence from the scene of the fatal incident, digital evidence like cell phone records, and testimony from witnesses who saw the incident occur firsthand. To succeed with a wrongful death claim, the plaintiff must identify the party responsible for the death and prove the death would not have occurred but for their negligence or misconduct.
Q: What Are the Penalties for Causing a Wrongful Death?
A: If a wrongful death occurs due to simple negligence, the defendant faces liability for the surviving family's damages, but they are unlikely to face criminal charges unless their behavior exceeds the extent of typical negligence. If the defendant caused the death through an illegal act, such as driving under the influence of drugs or alcohol, they face not only civil liability for wrongful death but also criminal charges. Your Conover wrongful death attorney can advise you as to how any such variables might influence your case proceedings and final case award.
Q: What Will It Cost to Hire a Conover Wrongful Death Attorney?
A: Most attorneys who take wrongful death cases operate on a contingency fee basis. When you have a contingency fee agreement with your attorney, they will only take a fee for their service if and when they win your case, and your fee will be a percentage of the total amount recovered. If they are unsuccessful with the claim, there is no fee at all, so there is no financial risk to the plaintiff with this billing policy. Make sure you fully understand a prospective attorney's billing policy before signing a contract for their representation.
The attorneys at Helton, Cody & Associates, PLLC, have successfully represented many wrongful death suits in Catawba County, and we know how devastating it is to lose a loved one unexpectedly. If your family is struggling in the aftermath of a relative's untimely death and you believe another party is responsible for causing the death, we can help. Contact us today and schedule your consultation with a Conover wrongful death attorney you can trust to guide you through your case proceedings.