Conover Motorcycle Accident Attorney
Motorcycles are popular in Catawba County, but they are inherently more dangerous than enclosed passenger vehicles for several reasons. Motorcycles lack safety features found in most passenger cars, like airbags, safety belts, and crash-absorbing frames, and they are also smaller and easier to overlook than most other vehicles. Additionally, when an accident happens in Conover, NC, the rider is not only at risk of injury from the primary impact of another vehicle hitting them, but also the secondary impact of being thrown to the ground.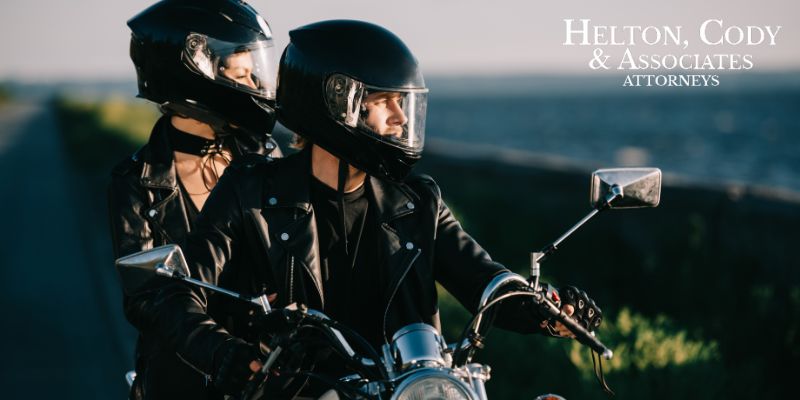 Helping Motorcycle Accident Victims Recover in Conover, NC
Motorcycle accidents happen in many ways, and if another party is responsible for causing a motorcycle accident that recently injured you or a loved one, it is natural to have lots of legal questions concerning your recovery. An experienced Conover motorcycle accident attorney is the ideal resource to consult in this situation. The team at Helton, Cody & Associates, PLLC, is ready to provide the comprehensive legal representation you need to reach the optimal outcome of your impending motorcycle accident claim.
Proving Liability for Your Motorcycle Accident in Conover
The state upholds the fault rule for resolving vehicle accidents. This means it is crucial for you to prove fault for an accident before you can recover compensation for your losses. Most of the motorcycle accidents reported in Catawba County are the result of negligence, such as distracted driving, speeding, and moving violations. It is also possible for these incidents to occur because of illegal and intentional misconduct, such as driving under the influence (DUI) of alcohol or drugs.
Your Conover motorcycle accident attorney can assist you in building your case, gathering evidence and testimony needed to prove fault. Drivers' cell phone records, recordings from nearby traffic cameras, and statements from eyewitnesses are often crucial for proving fault for an accident. Once you have identified the party responsible for your accident, you can proceed with claiming compensation for the losses you suffered.
Recovering Compensation for Your Motorcycle Accident
The state requires every driver to have automobile insurance, but insurance alone may not fully cover your damages if you suffered extreme injuries in your accident. There is also the chance of the insurance carrier mishandling your claim or treating you in bad faith. Even if you manage to secure an appropriate insurance settlement, you may need to go further and file a personal injury claim to fully recover your damages.
The attorneys at Helton, Cody & Associates, PLLC, have the experience and resources needed to handle a complex automobile insurance claim filing process and a personal injury claim against the party responsible for your damages. Our team has a reputation as a leading choice for personal injury counsel in the Conover area due to our attention to detail, responsive communication with our clients, and keen focus on each client's individual needs in all cases we accept. When you choose our firm as your legal counsel, we will do everything we can to streamline your recovery process and help secure as much compensation as the law allows for your damages.
Motorcycle Accident Lawyer FAQs
Q: What Happens When a Motorcycle Accident in Conover Is Fatal?
A: Unfortunately, the risk of dying in a motorcycle accident is much greater than the risk of fatal injury from a typical passenger car accident. If the victim of another party's negligence or misconduct does not survive, their family has the right to pursue a wrongful death suit in lieu of the personal injury claim they could have filed had they survived. Wrongful death claims are procedurally similar to personal injury claims in many ways, but while a personal injury suit focuses on compensating the victim, a wrongful death claim aims to compensate the victim's family for their loss.
Q: How Much Compensation Can I Receive for a Motorcycle Accident in Conover?
A: The total value of your motorcycle accident claim hinges on the severity of the damages you suffered. North Carolina law allows you to seek full repayment of economic losses such as vehicle repair costs, medical treatment bills, and lost income following your accident. You also have the right to claim compensation for the pain and suffering you experienced, and you may claim as much as you deem appropriate to reflect the severity of your experience.
Q: How Long Do I Have to Sue for a Motorcycle Accident in Conover?
A: If you intend to file a personal injury claim against the driver who caused your motorcycle accident, you must do so within three years of the date of the accident. However, filing an automobile insurance claim is generally the first step to take in recovering from any vehicle accident, and you have a much shorter window in which to do so. It is crucial to connect with an experienced Conover motorcycle accident attorney as soon as possible after your crash to have the greatest chance of recovery.
Q: Why Should I Hire a Conover Motorcycle Accident Attorney?
A: Hiring legal counsel you can trust is the optimal way to increase your chances of success with any claim for damages. Your legal team can manage your case proceedings on your behalf while you rest and recover with peace of mind. They are also more likely to secure compensation that you may have overlooked had you attempted to handle your case alone, and you are more likely to reach a swift and positive outcome to your case when you have legal representation.
Q: How Much Will It Cost to Hire a Conover Motorcycle Accident Attorney?
A: Most of the personal injury attorneys representing clients accept these cases on a contingency fee basis. This means the client is not required to pay upfront or ongoing legal fees, and they will only pay an attorney's fee if they win their client's case. This fee will be a percentage of the total case award secured for the client, and there is no fee at all if the attorney cannot obtain compensation for the client. Always verify the details of an attorney's billing policy before accepting their representation.
The team at Helton, Cody & Associates, PLLC, has years of professional experience handling many vehicle accident claims, including complex motorcycle accident cases involving catastrophic injuries. Whatever your claim may entail, you can trust our firm to provide ongoing support through each stage of your recovery process. If you are ready to learn what a seasoned Conover motorcycle accident attorney can do for your case, contact Helton, Cody & Associates, PLLC, today to schedule a consultation with our team.