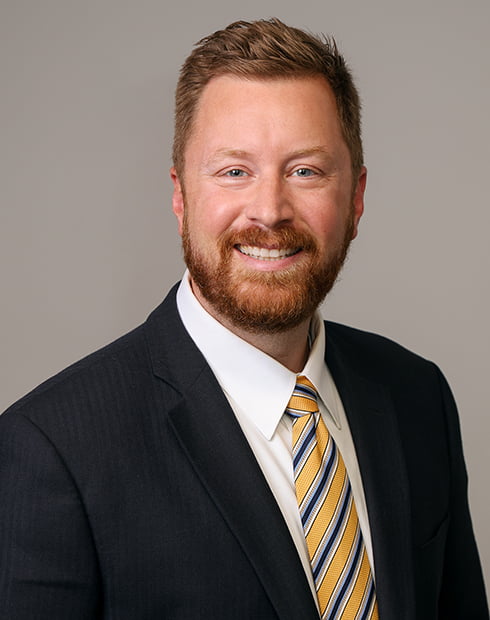 Biography
Education
West Virginia University College of Law, Morgantown, WV

J.D. – 2012
Awards: The Order of Barristers; numerous distinctions for verbal and written advocacy.

Multidisciplinary Studies, West Virginia University, Morgantown, WV

B.A. – 2009
Awards: cum laude graduate; WVU President's list (multiple awards).
Past Positions
The Law Office of John Wesley Chancey, PLLC, Hickory, NC – Oct. 2021 – Present

Attorney at Law – Duties include managing a law practice focused on family law and estate planning.

University of North Carolina System Office, Chapel Hill, NC – Jan. 2019 – May 2021

Director of University Compliance – Duties included coordinating gender equity and discrimination compliance programs for the 17 institutions of the University of North Carolina; coordinating with campus partners regarding Title IX, VAWA, Clery, and Campus SaVE; and promoting UNC policy.

Western Carolina University, Cullowhee, NC – Mar. 2015 – Dec. 2018

Associate General Counsel – Duties included providing legal counsel to campus partners on the full spectrum of university operation; coordinating university compliance with statutory schemes; overseeing campus judicial processes; and coordinating emergency behavioral interventions.
Assistant General Counsel / Chief Compliance Officer – Duties included overseeing the enterprise risk management function; quantifying, analyzing, and responding to organizational risk; providing counsel to constituents regarding personnel grievances, equal opportunity programs, contracts, litigation, and appellate advocacy; and investigating claims of discrimination.
Adjunct Professor – Taught a freshman seminar on American jurisprudence, which included content focusing on criminal law; police use of force; individual rights; family law; contracts; and armed conflict.

The Davis Law Group, P.A., Asheville, NC – Jul. 2014 – Nov. 2014

Legal Contractor – Provided litigation support; participated in a multi-week trial regarding a police chase resulting in death; interviewed prospective clients; conducted claims investigations; and negotiated with insurance companies.

Law Offices of Hamstead, Williams & Shook, PLLC, Morgantown, WV – Jan. 2012 – June 2014

Associate Attorney at Law – Duties included managing civil and family law cases from intake to verdict; claims investigation; negotiation; witness interviews; and jury analysis.

West Virginia University General Counsel's Office, Morgantown, WV – May 2009 – Aug. 2010

Legal Graduate Assistant – Duties included conducting legal research; monitoring current events; forecasting regulatory changes; drafting policy and legislation; and learning university processes.

West Virginia University President's Office, Morgantown, WV – Aug. 2006 – May 2009

Intern – Duties included being part of the front office staff; special projects; VIP escort; and other duties as assigned.

United States Marine Corps, Camp Lejeune, NC – June 2001 – June 2005

Hon. Discharge; standard four year enlistment; Rank: Sergeant (E-5)
Operational experience: applied counter-terrorism; infantry tactics; room-to-room battle tactics; and rapid combat theater deployment. Distinguished service as an urban warfare instructor; marine combat instructor of water survival; and antitank assault guided missile-man.