Valdese Traffic Ticket Attorney
Most of us have a tendency to think of traffic tickets as a nuisance. In some cases, perhaps that's true, but far too often, that understates the severity of the situation. Traffic tickets have real consequences, from taking hard-earned cash out of your pocket on one end of the spectrum all the way up to jail time on the other end. It's important to take these situations seriously.
This is why you have a right to challenge the ticket and to have a lawyer represent you in that defense. If you need a Valdese, NC, traffic ticket lawyer, contact Helton, Cody & Associates, PLLC. We can help ensure you're well-defended and fairly treated.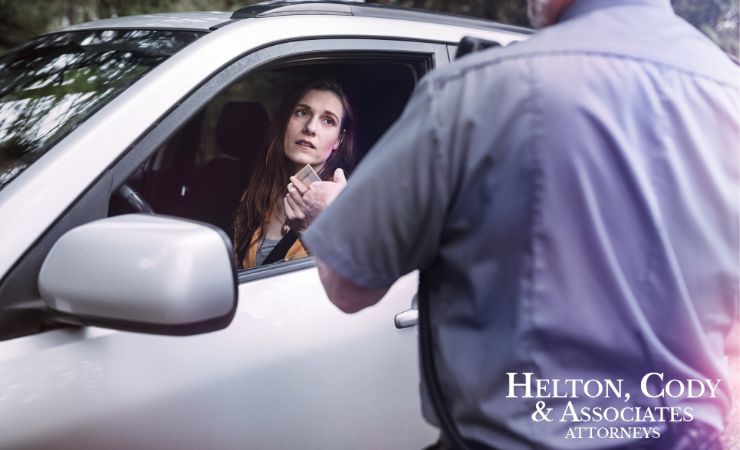 Kinds of Traffic Violations
Traffic violations are a broad category of charges ranging from less serious to more serious. They can be civil infractions or misdemeanor criminal violations. Some of the more serious offenses include:
Speeding – Depending on the severity of the speeding, the consequences can be harsh. Repeated smaller violations can also add up to significant consequences.
Reckless Driving – If you are determined to be driving without regard for others' safety or are perceived to be an imminent danger to others around you, you could be charged with reckless driving. In North Carolina, this is a class 2 misdemeanor and could result in fines of up $1000, up to 90 days in jail, or suspension of a license.
Driving on a Suspended License – If you drive on a suspended license, you could find yourself with some stiff penalties. You could get additional time added to your suspension, including a lifetime suspension for a third offense. A judge can levy a fine against you. Eight points could be added to your insurance policy, which could raise your rates by 220 percent. Additionally, you could face up to 120 days in jail.
Driving While Impaired – Any blood alcohol concentration above 0.08% is considered driving while impaired for anyone over the age of 21 in North Carolina. If you are operating a commercial vehicle, the threshold drops to 0.04%. For those under 21, any blood alcohol content is considered driving while impaired. The sentence for this can vary based on the surrounding circumstances, such as if there were others in the vehicle, if there were minors in the vehicle, or if it is a repeat offense. Suspension of your license and even jail time are a possibility. DWIs can sometimes be paired with criminal charges depending upon the circumstances.
Some less serious offenses include:
Driving without valid registration
Driving without the required insurance
Running a red light
Running a stop sign
Making an illegal U-turn
Not wearing a seat belt
Consequences of Tickets
Traffic violations come with a wide array of consequences depending on the violation and circumstances surrounding the violation. These consequences may include:
Fines
Court Costs
Driver's License Points
Increased Insurance Costs
Suspension of License
Jail Sentence and a Criminal Record
How We Can Help
If you find yourself facing a traffic violation situation, you may need some help defending yourself. At Helton, Cody & Associates, PLLC, we can help defend you. We can investigate your situation to see if there are any circumstances that might help in your defense, and we can give you a clear overview of the options available to you.
If you would like to attempt to negotiate a plea, our experience may help in getting you a better offer. If you want to take your case to court, our lawyers can argue on your behalf to have your charges dismissed. Our team is ready to help you through the process from start to finish.
FAQs
Q: Can A Lawyer Help With a Speeding Ticket in North Carolina?
A: Yes, a lawyer can help with a speeding ticket. If you get a ticket in North Carolina, you have a right to challenge that ticket. You also have a right to have a lawyer represent you in making that challenge. So if the consequences of your violation are severe, make sure you let us assist in your defense.
Q: How Do I Get a Traffic Ticket Dismissed in North Carolina?
A: To get a ticket dismissed, you will need to take the case to court and enter a plea of 'not guilty.' Depending on the severity of the charge against you, you will either go to a pre-trial conference or, for more severe charges, a jury trial. At the conference, you will need to argue why you should not be given the ticket.
Q: Do I Need a Lawyer for Traffic Court in North Carolina?
A: You don't have to have a lawyer for traffic court; however, you will want one. Having a lawyer will give you someone on your side with experience and a strong understanding of the process and possible defenses. The more severe the consequences of your situation, the more you may benefit from a traffic ticket lawyer. Whether you wish to defend your case in court or plead down to a lesser charge, a lawyer with our experience may give you a better outcome.
Q: Can I Plead to Have My Ticket Reduced in North Carolina?
A: You can plead to have a ticket reduced in North Carolina. This would have to happen before any kind of trial begins. It's worthwhile to consider having our lawyers help you bargain for any kind of plea deal. They have an understanding of what kind of agreement is reasonable and can help make sure you don't get taken advantage of in the situation.
Better Your Chance of Reducing Your Ticket or Getting it Dismissed With The Help of a Traffic Ticket Lawyer
Traffic tickets don't have to be something you just accept. You have the same right to challenge them as you do with any other civil or criminal charges. Given that the consequences of those charges can be severe, especially if charges start to pile up on top of each other, you should strongly consider exercising that right. A lawyer often helps better your odds of success in defending against a charge. That becomes more important the more severe the consequences of being found guilty are. If you are ready for some help in challenging your traffic ticket, contact us today — we offer our services to Burke County, Catawba County, and Caldwell County.