Valdese DWI Attorney
Being charged with a DWI in Valdese, NC can be a frightening reality. The greater the potential damage from violating the law, the stiffer the penalty a violation carries with it. As a result of the risks of driving impaired, the penalties can also be significant. The legal process for DWIs can be complex. Penalties can vary wildly based on the factors surrounding the charges.
A strong Valdese, NC, DWI defense lawyer can be a vital factor in avoiding the stiffest penalty altogether, arguing for a lesser penalty, or maybe getting the case dismissed. At Helton, Cody & Associates, PLLC, we understand the full spectrum of what can come up in a DWI case, and we can help individuals across Burke County, Catawba County, and Caldwell County be treated fairly.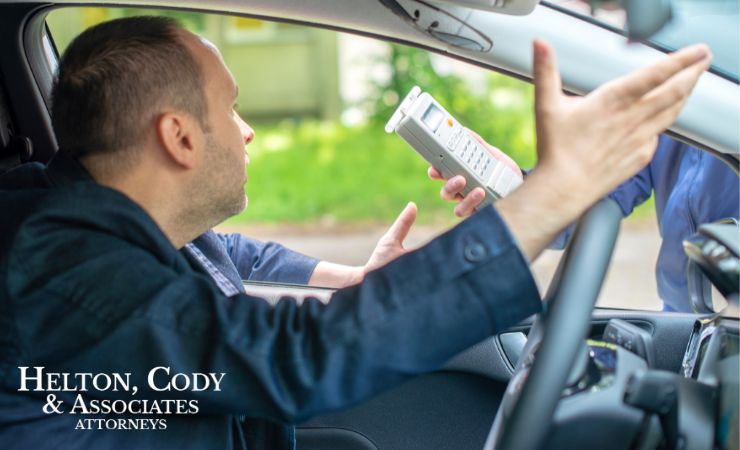 DWI Charges
In North Carolina, there are a few different ways you can be charged with Driving While Impaired. Those ways are:
Having a blood alcohol concentration (BAC) of 0.08% or higher for those 21 and older
Having a BAC of >0% for anyone under 21
Having a BAC of 0.04% or higher for anyone operating a commercial vehicle or who has had a prior DWI
Having an open container in the vehicle when the driver has been or is consuming alcohol
Having an open or closed container in the passenger area
Having provable impaired physical or mental fitness from alcohol or drugs
If you are being charged with a DWI, it's important to remember that you have a right to remain silent and a right to representation. Don't resist arrest or behave belligerently if you are being arrested. It is better to exercise your right to remain silent and wait for your lawyer. Give us a call for representation with experience in these situations.
DWI Penalties
In North Carolina, the penalty system for DWI depends on the situation surrounding the offense. It's also worth noting that a DWI could be charged as a misdemeanor or as a felony, depending on the situation. Some of the factors taken into consideration include:
If anyone was killed or injured
If the driver's conduct was likely to injure or kill someone if they were allowed to continue
If the charge is a first offense
Mitigating factors
Aggravating factors
Grossly aggravating factors
The mitigating, aggravating, and grossly aggravating factors are assessed and determine the severity of the DWI.
Some mitigating factors include:
Slight impairment in the case of BAC under 0.09%
Circumstances of DWI were otherwise safe
Voluntary entry into a treatment program
Safe driving record
Successfully completing 60 days of continuous alcohol monitoring
Some aggravating factors include:
Reckless or dangerous driving
Speeding more than 3 mph over the speed limit
BAC of more than 0.15%
Negligent driving causing an accident
Prior motor vehicle offenses
Fleeing the police
Passing a stopped school bus
Some Grossly Aggravating Factors include:
A child under 18 in the vehicle
Driving on a suspended license from a prior DWI
Any prior DWI conviction within the last seven years
Causing a death
Based on the array of mitigating and aggravating factors, the DWI is placed in one of six levels going from least serious to most serious:
Level Five DWI
Level Four DWI
Level Three DWI
Level Two DWI
Level One DWI
Aggravated Level One DWI
Each level of DWI carries with it a range of potential sentences, usually a combination of potential fines and potential prison time. Level Five, at the low end, carries a fine of up to $200 and no more than 60 days. Each level increases in the severity of the penalty until we reach Aggravated Level One and its potential $10,000 maximum fine and possible 36-month prison sentence. It is possible that a judge, upon the completion of certain conditions, such as treatment for alcohol or drugs, may suspend a Level Three, Level Four, or Level Five DWI.
A DWI conviction can also carry some other potential penalties, such as:
Payment of all court fees from your arrest
Community Service
Alcohol or drug assessment and treatment
Interlock Ignition Device installed into your car
Having your license suspended or revoked
Fighting a DWI
State prosecutors generally don't offer any kind of plea bargains in North Carolina or "wet reckless" charges as some other states do. However, there are cases when the judge may choose to avoid sentencing jail time and instead order substance abuse treatment. There are also some circumstances where a judge may be willing to avoid prison time with conditional probation as an alternative. We can help you understand if any of these options may be applicable in your case.
When it comes to dealing with a DWI, there are two strategic pathways. The first is to try and get the case dismissed. The second, when there is no possibility of dismissal, is to argue for less than the full penalty. We understand well how to execute these strategies, what cases they may be applicable to, and to what cases they aren't.
One possible strategy for getting your case dismissed is to have the results of a test challenged. There are typically two possible ways that a test can be argued as faulty:
It's possible the lab overseeing your tests made an error or a false positive. If the lab has a history of problems, then it could be argued that your test is just another in a string of problems.
The second potential problem has to do with police error. The police may have made a procedural error in the process of charging you. This could be something like forgetting to tell you your rights or not establishing probable cause. The police may also have violated your constitutional or civil rights. These kinds of violations can be grounds for a dismissal of your case.
Sometimes, there can be a lack of possible grounds for dismissal in a DWI case. The evidence against you could be sound, and every procedure followed. If that's the situation, then you can consider arguing for lesser penalties. This is easier to argue if it's your first DWI, but even in other circumstances, mitigating circumstances and alternative penalties might be cause for reducing something like potential jail time.
DWI Resulting in Injury or Death
DWIs can be dangerous, which is why the penalties are significant. Occasionally, a DWI does result in a dangerous situation leading to severe injuries or even death. Since DWIs in North Carolina could be charged as either a misdemeanor or a felony, a case resulting in injury or death is likely to be upgraded to a felony crime. A felony carries more substantial penalties, potentially including lengthy incarceration, large fines, and restitution for the victim or their family. The victim or their family also has a right to file a civil claim for things like lost income, medical expenses, and other costs associated with the aftermath of the injuries or death.
FAQs:
Q: What is a DWI in North Carolina?
A: There are four thresholds for a DWI in North Carolina
0.08% for anyone 21 years or older
0.04% for commercial drivers
Any alcohol concentration for anyone younger than 21
0.04% for anyone with a prior DWI
Q: Do I Need a Lawyer for a DWI in North Carolina?
A: You don't have to have a lawyer for any case, but most people can benefit from the experience and knowledge lawyers have regarding the law. They can understand the way the law affects the particulars of your case. Given the severity of the consequences, it's a good idea to get as much help as you can.
Q: Is It Possible to Get Out of a DWI in North Carolina?
A: It is possible, though not easy. The strongest likelihood of getting out of a case is if there was an error in how the police handled a chemical test, if the police made a procedural error, or if there was a violation of your constitutional rights.
Q: What Are the Potential Consequences for a DWI in North Carolina?
A: North Carolina has a tiered system of DWI sentencing that works up from Level Five DWI up to Aggravated Level One DWI. On the low end, a Level Five DWI can be a fine of up to $200 and a maximum prison sentence of 60 days. At the high end, an Aggravated Level One can be a maximum fine of $10,000 and up to 36 months in prison. If certain conditions are met, a judge may choose to suspend the sentence at Level Three, Level Four, and Level Five. Additionally, things like a suspension of license or treatment for alcohol or drug use can be mandated by the court.
A Good Lawyer May Help Your DWI Case
A DWI is a serious issue with significant consequences if you are found guilty. At Helton, Cody & Associates, PLLC, we understand what it takes to challenge DWI charges, argue for mitigating factors and against aggravating factors, and make the case against the more significant penalties. You have a right to legal defense, and in the case of a DWI, you want to make sure your defense is as thorough as it can be. If you need a DWI defense team you can count on, contact us today.