Valdese Domestic Violence Attorney
Domestic violence is one of the most sensitive issues the legal system handles. Its effects are significant and often extend beyond the law. As hard as any violence or abuse is, it becomes even harder to process when it comes from those closest to us. The same is true when we are accused of these kinds of things by someone close.
In situations like this, we know that what parties need is clarity and sensitivity from their Valdese, NC, domestic violence lawyers. With our experience handling these kinds of matters, Helton, Cody & Associates, PLLC are able to give you clear guidance on the legal process ahead with the sensitivity you need, whether you're in Burke County, Catawba County, or Caldwell County.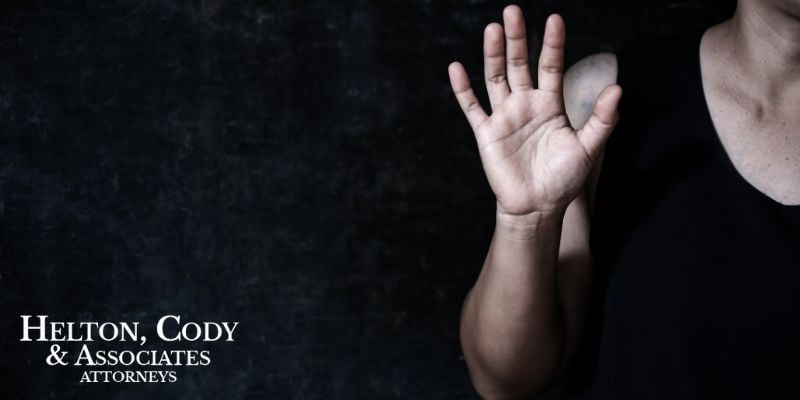 Domestic Violence in North Carolina
Domestic violence is not a specific charge in North Carolina. It is more of an umbrella term. Where it is addressed by the law, it is defined by who the victims of the violence or abuse are. The victims of domestic violence could be:
Spouse or ex-spouse
Parent, child, grandparent, or grandchild
Other parent of a child
A person that the perpetrator dated
A previous or current member of the same household
There are five general categories of domestic violence. They are:
Physical Violence – Physical aggression that leads to physical harm
Sexual Assault – Forcing sexual activity without consent
Emotional Abuse – A broad category of behavior that generally describes behavior that, while not necessarily including physical contact, is meant to control someone through manipulation of their insecurity and vulnerability
Economic Abuse – Financially controlling a spouse, usually through isolation and manipulation
Stalking – Unwanted, persistent following, contacting, monitoring, or harassing
The Penalties for Domestic Violence
North Carolina does not have any specific penalties for domestic violence. So any charges for specific crimes will determine the penalties for those crimes if convicted. The state does not, though, leave victims without some means of protection, the primary one being a domestic violence protective order.
Domestic Violence Protective Order
A victim of domestic violence can seek a domestic violence protective order (DVPO), also known as a restraining order or 50B, against their perpetrator. If you file this order, the subject of it is required to: 
Move out of your residence
Not contact you, your children, or any other household members
Pay for child and/or spousal support
A DVPO can last for up to a year and potentially be extended another two years. A violation of this order can lead to immediate arrest.
False Accusations of Domestic Violence
As serious as domestic violence is, false accusations can be a significant issue as well. Of course, we wish that these never occurred; however, especially in the emotional turmoil of divorce, a custody battle, or conflict at home, these things do occasionally happen. It's important to realize that false accusation is itself a crime, as well as a form of emotional abuse. There are a few important steps to remember if you are accused of domestic violence:
Maintain composure and don't resist – As hard as it may be, you will do yourself a lot of favors if you don't let your emotions take control. If you resist arrest, act belligerent, or behave in any other way that might be used against you in court, your case will be more difficult to defend. A level-headed approach will help you.
Exercise your rights – You always have a right to remain silent and to an attorney. Silence is always a good option in these cases. You will also want to make sure you work with an attorney like ourselves, who have experience in handling these kinds of cases.
Document – Keep a record of everything you can, particularly any contact you may have with your accuser.
Leave it for the legal process – It can be difficult not to act out irrationally in situations like this. It's hard when a lie is tearing so much apart. However, the most useful thing you can do is to let the legal process run its course.
FAQs:
Q: What Is Domestic Violence in North Carolina?
A: There's no specific charge of domestic violence in North Carolina. However, domestic violence tends to refer to forms of physical violence, sexual assault, emotional abuse, or economic abuse. The domestic nature, for purposes of a domestic violence protection order, often refers to who these acts are perpetrated upon:
Spouse or ex-spouse
Someone who has previously or currently lived in the same household
Other parent of a child
Person dated by the perpetrator
Parent, child, grandparent, or grandchild
Q: What Can I Do as a Domestic Violence Victim in Valdese, NC?
A: If you are in any kind of imminent danger, the first thing you should do is get yourself to safety. Calling the police is a good decision if you are threatened. After that, seek legal guidance. If you call us, we can help you with the next steps, including potentially filing for a domestic violence protection order.
Q: What Kind of Sentencing Is There for Domestic Violence in North Carolina?
A: Since domestic violence is not a specific charge, any sentencing will be based on the particular crime that someone has been charged with.
Q: What Can I Do if I've Been Falsely Accused of Domestic Violence in North Carolina?
A: The first thing to do is remain calm and don't resist any arrest. Keeping calm and not acting belligerent in any way may help your case. You have a right to remain silent, and generally, the less said, the better. You also have a right to an attorney, so wait until they are present. Work with a lawyer who understands domestic abuse cases. Document everything you can. Lastly, never take anything into your own hands. As hard as it may be, your greatest chance at vindication is to let the legal process unfold.
Domestic Violence Cases Need a Lawyer With Experience
We understand domestic violence cases. The seriousness and sensitivity they deserve is something we've handled many times before. When it comes to dealing with domestic violence, you need a lawyer who understands the law and the situation. Contact us today and make sure your domestic violence situation is treated with the care and respect that you need.