Valdese Criminal Defense Attorneys
If you are charged with any crime in Valdese, North Carolina, it is crucial that you know your rights in this situation and how to defend yourself. Whether you know that you broke the law or you believe you have been wrongfully charged, it's vital to take full advantage of your constitutional right to legal counsel and to find a Valdese criminal defense attorney you can trust as soon as possible.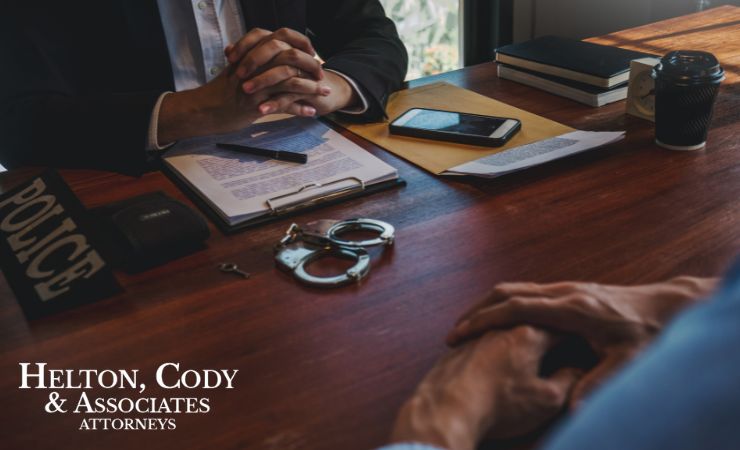 Reliable Criminal Defense Representation for Valdese, NC, Clients
The attorneys at Helton, Cody & Associates, PLLC, have years of professional experience in criminal defense representation. We have successfully helped many past clients avoid the worst penalties they have faced for their charges and can apply this experience to your defense. We seek to have our client's case dismissed if possible, and we will do everything we can to have our client's sentence reduced as much as possible when a conviction is unavoidable.
Types of Criminal Cases We Represent
When you are arrested for any crime, you have the right to remain silent. Even if you think your arrest is unfair or unjustified, do not risk saying anything that could make the situation worse. Remain silent and comply with instructions from arresting officers until you are able to contact a defense attorney. Every American has the right to defense counsel when they are accused of a crime, and it is vital to take full advantage of this right when you face criminal charges.
It's important to find not only an experienced Valdese criminal defense attorney but also an attorney who has experience handling the specific type of case you currently face. At Helton, Cody & Associates, PLLC, we have substantial professional experience helping clients with various criminal charges, including:
Driving while intoxicated (DWI) or driving under the influence (DUI). This is one of the most common crimes in the state, and penalties can include driver's license suspension, fines, and jail time. We can help challenge the basis for your arrest and potentially assist you in proving your innocence if you have been wrongfully charged.
Assault. Any violent crime has the potential to result in felony charges, and penalties can include years in prison, heavy fines, and restitution to the victim. If you need to prove that you acted in self-defense or were wrongfully charged for an assault you did not commit, we can help.
Drug-related offenses. These are some of the most common crimes throughout the United States, and North Carolina law upholds severe penalties for drug possession, drug trafficking, and possession with intent to sell. Penalties can increase severely based on the type and quantity of the drug as well as prior arrests and related offenses.
These are just a few of the types of criminal cases we represent. When you need defense counsel you can trust, it is vital to reach out to an experienced attorney as soon as possible after an arrest. The more time your defense attorney has to work on your case, the more robust your defense can be.
It's possible that you have more defenses available to you than you initially realize. Your Valdese criminal defense attorney can help challenge a prosecutor's evidence and disprove the foundation of their case if possible. You may also be able to highlight procedural failures or civil rights violations that may have your case thrown out. If you did break the law in North Carolina, your defense attorney could potentially help mitigate your sentence through the plea bargaining process. The sooner you reach out to defense counsel, the sooner you can determine your most viable defensive options.
FAQs
Q: How Much Does It Cost to Hire a Valdese Criminal Defense Attorney?
A: The majority of private criminal defense attorneys charge their clients hourly rates. This means that the more time your attorney needs to spend working on your case, the more you will pay in legal fees. Always verify a prospective attorney's billing policy before you agree to their representation so there are no surprises when it comes to the cost of your defense counsel.
Q: Why Should I Hire a Private Defense Attorney in Valdese?
A: It is true that you can secure defense counsel for free from a public defender. However, while most public defenders do their utmost for their clients, they are almost always overburdened by multiple cases at a time, leaving them very little room to provide any given client with much personal attention. Hiring a private Valdese criminal defense attorney means much more individual attention paid to your case and a responsive legal advocate you can contact at any time while your proceedings unfold.
Q: How Do You Prepare for Criminal Defense in Court?
A: In every criminal case, the burden of proving the defendant's guilt rests on the prosecution. The prosecutors must prove the defendant is guilty beyond a reasonable doubt, and the defense attorney's job is to prevent this from happening. Your Valdese criminal defense attorney can work closely with you to determine your most viable defenses, and they can also help gather any exculpatory evidence that helps you challenge the prosecution's case.
Q: How Long Does a Criminal Case Take to Finish in Valdese?
A: The time required to complete any criminal case depends on various factors, and it is difficult to state the average time required to complete a case. Availability of evidence, the strength of the prosecution's argument, and the overall severity of the charges are just a few examples of the things that dictate the time it will take to complete a criminal case. Your Valdese criminal defense attorney can estimate your case's likely timetable.
Facing criminal charges in Valdese can be a scary and life-changing experience. It is crucial to have defense representation you can trust in this situation, and the right attorney can make a tremendous positive impact on the outcome of your impending case. The attorneys at Helton, Cody & Associates, PLLC, have the experience and resources you want on your side in this situation, and it is important to secure criminal defense counsel as soon as possible after you have been charged with a crime. If you are ready to learn what a Valdese criminal defense attorney can do for you, contact us today and schedule a consultation with our team.