Valdese Child Custody Attorney
Any time our kids are involved in something serious, the situation will be more intense. Therefore, issues like child custody and child support are some of the most intense and emotional. We understand just how much is riding on custody decisions for parents, and we know that the process is one of the most stressful things a parent can experience.
At Helton, Cody & Associates, PLLC, we know that in those situations, our role goes beyond legal technicalities. Throughout the child custody process, you need someone who you feel confident will stand with you, who can explain the process clearly for you, and who can help you process the stress of the situation. Our years of experience can help you through the child custody process in Valdese, NC.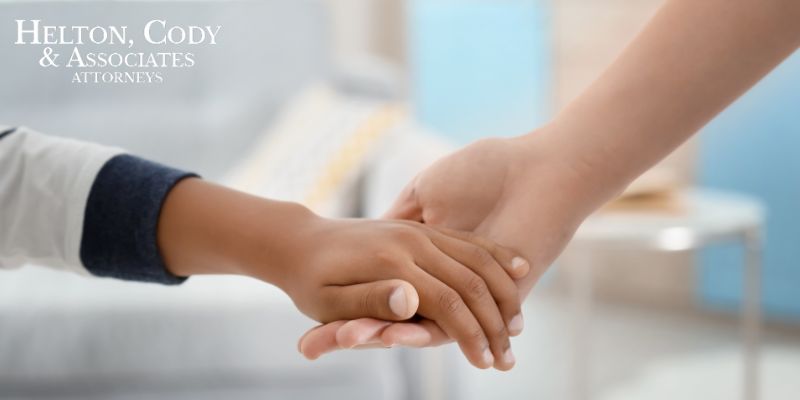 Kinds of Custody
Custody is not a blanket term — there are different types of custody, and all must be decided upon in a child custody case. In North Carolina, there are a few important ways in which custody as described:
Physical Custody – Where a child's primary residence is and how time with parents will be handled is described in the physical component of custody.
Legal Custody – Legal custody is all about decision-making regarding the upbringing of the child. It covers things like medical decisions, educational decisions, and religious choices.
Sole Custody – When only one parent has all of the custody of either the physical or legal custody, it is sole custody.
Joint Custody – Joint custody is when both parents share either the physical or legal custody of the child.
The final court order custody doesn't have to be uniform in terms of sole and joint custody. It's possible the court may order sole physical custody to one parent while maintaining joint legal custody. So while the child primarily resides with one parent, they may share in the important decision-making.
It's also important to realize that sole physical custody does not necessarily mean the child will spend no time with the other parent. Unless being with the non-custodial parent is harmful to the child, the court believes that relationships with both parents are important. The court will very likely order personal visitation on a schedule and in a nature of the court's choosing.
Who Determines Custody
Preferably, parents would work together to develop a custody plan that they can both agree to. However, we understand that this isn't always possible. Sometimes, the matter will have to be argued before a judge. In the end, any custody decision, even those mutually agreed upon, will ultimately be approved by a judge. The judge can create a custody order that they believe is fair, even if that means altering a mutually agreed upon plan. The judge is ultimately empowered to choose what they see as the most convenient arrangement for the child's well-being. The judge will consider a number of factors in coming to a decision, including:
The ability of each parent to meet the child's needs
The parent-child relationship in both cases
How each parent will support the other's relationship with the child
Any past abuse or neglect
The parents' living situation
The child's preferences
The child's need for stability and continuity
Changing Custody
Things that affect the nature of custody change, and as a result, the custody order may be modified as well. However, to petition for a modification of custody, you must be able to show that there has been a change in circumstance that has a link to the overall welfare of the child. Any changes to be made must still ultimately come down to the interests of the child, so you should be able to explain how any proposed changes are better for the child. The kinds of changes in circumstance that might be considered include:
A change in financial circumstances
Remarriage of a parent
Testimony from the child
Testimony from the parent
A parent moving
A parent moving in with another person
School performance or absences
Child Custody Lawyers FAQs
Q: How Can Custody Be Divided in North Carolina?
A: In North Carolina, custody is divided either solely to one parent or jointly shared. Custody is also split into two categories: physical and legal. Both the physical and legal custody may be either sole or shared. It is not necessary that both be the same, either. So, if one parent is granted sole physical custody, it is possible that the court may still order joint legal custody.
Q: Is the Mother Given Child Custody Preference in North Carolina?
A: No. In North Carolina, only the child's interests should be taken into consideration regarding all custody decisions. Any legal preference toward either parent has been abolished.
Q: Is North Carolina a 50/50 Custody State?
A: North Carolina is not necessarily a 50/50 custody state. The only deciding consideration is the child's welfare. There may be a starting presumption that 50/50 or something close to it is optimal, but the particulars of each case will guide the final custody decision.
Q: Can I Get My Child's Custody Order Changed?
A: You can petition to get a custody order changed; however, you must have a significant change in circumstances, and that change must have an effect on the child's welfare. Things like changes in the parent's relationship status or a change in the child's school performance could be causes for a change in the custody order.
Don't Fight for Your Kids Alone
At Helton, Cody & Associates, PLLC, we provide Burke County, Catawba County, and Caldwell County with excellent legal care. We understand that you are going to do everything you can to do what's right for your kids. Hopefully, you and the child's other parent can come to an agreement regarding your kids amicably. If so, you still will want some legal help making sure the agreement is the kind of thing a judge is going to accept.
With our experience, we can help you with that. If you aren't able to find an agreement and the custody matter goes to hearings, you are going to need a legal team willing to fight for your kids like you would. Contact us today if you are looking for someone to help you fight for what you want for your kids.