Lenoir, NC Child Custody & Visitation Attorney
Custody is a difficult and complicated matter in Lenoir, NC. Most people have a strong connection to their children. They want to spend time with them while simultaneously wanting their child to have the best possible environment to grow, play, and live. When the court gets involved, these two desires may be mutually exclusive. This makes child custody battles notoriously emotional and difficult.
Whether you are getting a divorce or just officially determining child custody arrangements, it is important to go through the proper channels. The courts can help you determine what is best for your child while simultaneously creating a legally binding agreement that is enforceable by law. If you try to go through these negotiations outside of court, there is no way to take action if something goes wrong.
With the help of the child custody attorneys at Helton, Cody & Associates, PLLC, you can create the child custody and child support agreement that works best for your family. This can ensure healthy growth and support for your children.
Helton, Cody & Associates, PLLC: Your Lenoir, NC, Child Custody Lawyers
For family law, our attorneys have extensive experience representing clients of all kinds. Families who come to us for help know that we provide unparalleled support during the child custody process. We can walk you through every step and ensure that you feel confident and empowered in any decisions that you make about your family. Whether you are seeking full custody, joint custody, or a unique arrangement, we have the experience and expertise to guide you throughout the process.
We approach your case with sensitivity and empathy. We know that these situations are fraught with emotion, and you can trust us to offer kind, comprehensive legal advice that accounts for your feelings while remaining steadfast in the truth. We do not avoid difficult subjects, but we can approach them with your feelings in mind. You can trust us during this vulnerable, emotional time.
If you are looking for family lawyers in Burke County, Catawba County, or Caldwell County, our team at Helton, Cody & Associates, PLLC, provides the best legal support in the area.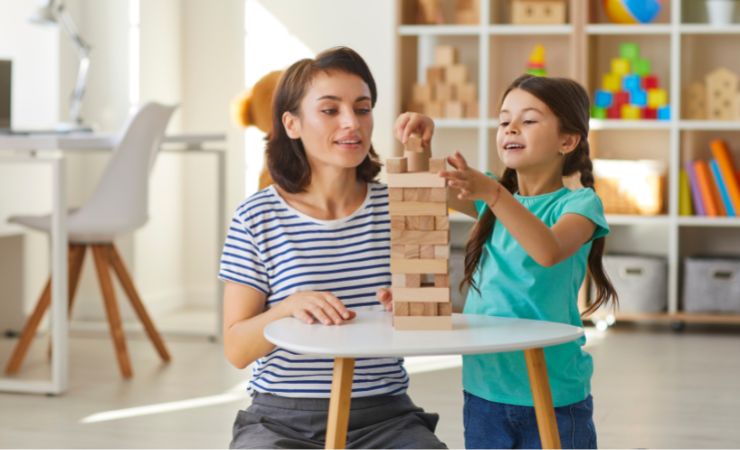 Child Custody Basics
Although child custody negotiations often happen during divorce proceedings, they do not necessarily have to occur at this time. Some parents seek custody because they need an official agreement for their custody setup. Others seek custody after prolonged absences from their child's life, looking to become a more active parent. No matter the circumstances, the court will assess some basic criteria before granting custody or beginning negotiations.
The court's top priority is the child's safety. The law needs to make sure that whatever custody agreement occurs will support the child's healthy growth and be free of abuse, neglect, and suffering. Because of this, the court looks at each parent's:
Living situation, including cleanliness, safety, and ability to host a child
Health, including the physical and mental capability to care for a child
Relationship to drugs and alcohol
Employment situation, including the amount of time available for child rearing
Relationship to the child
These, along with other factors, help the court determine whether each parent can provide a safe, stable home for the child. If they can, the court will almost certainly grant the parent at least some custody.
Potential Custody Arrangements
There are many different custody arrangements that you may develop with your child's other parent. The schedule will depend on your personal availability and the child's needs. The court will assign a type of custody arrangement that will outline how much time the child spends with each parent. Potential child custody arrangements include:
Shared Custody: When both parents spend roughly equal time with their children, this is called shared custody. The parents may opt to split the week in half or do one week at one home and one week at the other, for example.
Partial Custody: These arrangements involve one parent caring for the child the majority of the time, but the other parent does care for the child on a regular basis. For example, one parent may have the child during the week while the other parent has the child on the weekends.
Visitation: A visitation agreement specifies that one parent has primary custody of the child. However, the other parent has the legal right to see the child for a certain number of hours per month. This may be just a daytime schedule or may include sleepovers. For example, one parent may have the child nearly all the time, but the parent with visitation cares for the child one weekend per month.
Full Custody: In these situations, one parent has all the custody rights. The other parent does not have the legal right to see or care for their child.
Ideally, the court aims for shared custody to ensure that the child has a well-rounded support system. However, if schedules or circumstances do not allow, they may grant partial custody or visitation rights instead.
Child Custody and Child Support
The court aims to have each parent contribute equitably to their child's upbringing. This means that each parent should spend an approximately equal portion of their income caring for the child. This equity can be achieved through custody and through child support payments.
If one parent has the majority of the custody, the other parent may be asked to pay child support to make their contribution fairer. Without this child support, one parent is shouldering most of the financial burden of childrearing. This is not equitable or fair in the eyes of the law. Child support payments are often required for partial custody, full custody, and visitation arrangements.
Child support may be required if the parents have vastly different incomes. For example, one parent makes $100,000 per year and the other makes $50,000 per year, and they both contribute $10,000 per year to childrearing. The higher-earning parent is contributing only 10% of their income, while the other parent is contributing 20% of their income. To make the percentage equal, the law may require the higher-earning parent to pay the lower-earning parent some child support.
Why Do I Need a Child Custody Lawyer?
Child custody negotiations can be brutal. Your child's other parent may try to make you look like a poor candidate for child custody to achieve full custody and get child support payments. Without the ability to properly refute their claims, the court will likely side with your child's other parent. This will have an impact on your relationship with your child as well as your financial situation.
When there is so much at stake for you, your family, and your finances, it is important to do everything in your power to fight for what is right. The best way to do this is with an experienced child custody lawyer from Helton, Cody & Associates, PLLC.
Family Law FAQs
Q: How Much Does a Child Custody Lawyer Cost in North Carolina?
A: The cost of a child custody lawyer depends on several factors, including the complexity of your case, the attorney's expertise, and the time it takes to settle. Most child custody attorneys in North Carolina charge between $2,500 and $5,000 on average. However, many charge more or less. Some attorneys charge an hourly rate rather than a flat fee, which can alter the cost as well. Be sure to have an honest, straightforward conversation about finances with any potential attorneys.
Q: What Is the Standard for Deciding Child Custody in North Carolina?
A: The court always prioritizes the child's safety and wellbeing above all other factors. Therefore, a parent's ability to protect and properly care for their child is the standard for child custody decisions. Ideally, both parents would have an active role in their child's life. However, the court will always do what is safest for the child and will ensure the child's wellbeing.
Q: How Much Does It Cost to Get Custody of a Child in North Carolina?
A: Child custody is a process that is unique to each family. The cost of your process will depend upon your attorney's fees, the cost of caring for your child, and the amount of custody that you receive. If you are navigating a divorce and other family law matters at the same time, it can increase the cost of the entire process of obtaining custody. Be sure to ask your attorney about finances when you are discussing your case.
Q: Who Pays Attorney Fees in Child Custody Cases?
A: Generally, each parent pays for their own child custody attorney fees. However, in family law matters, there may be grounds to ask the other parent to pay for one's attorney fees. Discuss this concept with your attorney, as the solution is on a personal basis. If you have grounds to get your child's other parent to pay for your attorney fees, you should explore them.
Contact Helton, Cody & Associates, PLLC
If you are looking for comprehensive, supportive family lawyers with specific experience in child custody cases, look no further than Helton, Cody & Associates, PLLC. Our divorce attorneys and child custody lawyers can help you with any situation that may arise in your case.
For more information, contact Helton, Cody & Associates, PLLC, online today.