Criminal Defense Attorney in Hickory, NC
When you face criminal charges, you want an experienced lawyer to protect your constitutional rights. Helton, Cody & Associates serves Caldwell, Catawba, and Burke counties. The criminal justice system can be confusing and intimidating, with a unique set of rules and language of its own. Without proper counsel, you can quickly find yourself in over your head with prosecutors.
You want an attorney who knows the law and the system, who has protected the rights of others in situations like yours.
Attorney Heather Higgins is a criminal defense lawyer at Helton, Cody & Associates. Heather is a native of Hickory, NC. She attended Campbell University then attended Law School at Wake Forest University, where she was active in the Child Advocacy Clinic and Wake Law Veterans Legal Clinic. During this time, she completed internships at State Judge's and Prosecutorial offices. Attorney Higgins is an asset to our team, and is ready to take on your criminal case.
Why Criminal Defense Representation Is Crucial in North Carolina
Whether you know you made a mistake and broke the law or are facing an unjust accusation for a crime you did not commit, it is easy to feel isolated after an arrest and that no one is on your side and willing to help you avoid conviction. The police and prosecutors who will handle your case have little to no incentive to help you and are more likely to actively work against you to bolster their conviction rates. This can be an incredibly distressing situation, and it's vital to know your rights as they pertain to your case and exercise them as fully as possible.
Two fundamental constitutional rights come into play upon arrest. The first is your right to remain silent, protected by the Fifth Amendment of the US Constitution. You are under no legal obligation to answer any questions after arrest. While it's best to comply with the arresting officers and politely follow lawful directions, they may attempt to question you without an attorney or convince you to sign a confession. Therefore, you have the right to remain silent, and it's best to exercise this right until you secure legal counsel.
Your right to defense representation is protected by the Sixth Amendment, which guarantees legal counsel to anyone accused of a crime, even if they cannot afford to hire private defense representation. If you cannot afford an attorney or do not wish to hire a private Hickory criminal defense attorney, the court can provide a public defender at no cost.
Many people assume that it's best to simply have public defenders represent them so they can save money on legal fees. However, if you can do so, investing in a private defense attorney typically provides a higher level of legal representation than you could expect from a public defender. Most North Carolina public defenders are capable and hardworking attorneys who do the best they can for every client. However, they have very demanding jobs that require them to manage several cases simultaneously. This affords them very little flexibility to address individual clients' concerns, and a public defender may only be able to offer an hour or so each day to oversee your case.
Helton, Cody & Associates maintains a manageable caseload to ensure every client we represent has full access to our resources and experience. When you secure our defense representation, we will immediately begin handling your case as efficiently as possible. We'll review the police report from your arrest, examine available evidence, and help you develop your defense strategy. You may have more defense options available to you than you initially realize, and we will help you take advantage of them.
Criminal Cases We Handle in Hickory, NC
When you need criminal defense representation in Hickory, NC, it is essential to choose an attorney with solid experience handling cases similar to yours. We have successfully represented many clients in a wide range of criminal cases. Our law firm focuses on:
Drug crimes — We handle all types of drug cases, from possession to sale to trafficking to manufacturing to cultivation, involving all types of controlled substances such as marijuana, cocaine, heroin, methamphetamine, and even prescription drugs.
DWI offenses — We represent local residents and out-of-state drivers who have been charged with driving while intoxicated (DWI).
Property crimes — We defend people charged with a range of crimes related to property, including theft, damage, or injury to, and larceny of, property, as well as possession and receiving of stolen property.
Assault — From assault and battery and simple affray to the most serious felony assaults, we handle all assault cases, including domestic abuse.
We have a very successful track record defending people against drug charges. Dismissal can come in the form of conditional discharge, meaning that upon completion of community service or taking antidrug classes, the charges will be dropped. The arrest record can even be expunged at a later time. We are able to review an individual's criminal record and determine if their record is eligible for expungement.
Building Your Defense Against Criminal Charges
It's vital to understand due process laws and how they apply to your criminal case in North Carolina. In every criminal case, the prosecution has the burden of proving the defendant is guilty of the charges in question, and they must prove guilt beyond any reasonable doubt. This is a high standard for any prosecutor, and it is your defense lawyer's job to prevent them from meeting it. Your Hickory criminal defense attorney can handle your case in various ways and will assist you in determining the best possible strategy for your situation:
A successful defense against the charges you face may hinge on attacking the prosecution's evidence. Your defense attorney may contest how physical evidence was obtained and handled or argue against certain evidence's admissibility. You could win your case by proving that a critical piece of the prosecution's evidence is inadmissible or has been legally compromised. For example, if you are facing DWI charges, your Hickory defense lawyer could potentially help you prove the police failed to administer your chemical test correctly or that the testing lab mishandled your chemical sample somehow.
Your defense may succeed simply by allowing the prosecution's case to fall apart on its own. Some prosecutors are overly zealous in seeking convictions without solid evidence. While it's best to be proactive in your defense, the prosecution's case may crumble due to a lack of credibility, reasonable doubt, and questionable circumstances related to how the evidence was obtained.
You could have your case dismissed by proving your arrest was illegal or that the police who arrested you violated your civil or constitutional rights. For example, if the arresting officer did not read you your Miranda Rights when they placed you under arrest, this is a serious procedural violation. Your defense attorney may also cite police misconduct, brutality, and other civil rights violations as the details of the case unfold.
If you were arrested simply because you were in the wrong place at the wrong time, your defense lawyer might help you assert an affirmative defense by helping you establish an alibi. In addition, your defense team can help you obtain witness statements that can verify that you could not have committed the offense in question because you were somewhere else. Finally, your attorney may also help you prove you were illegally profiled in violation of your civil rights.
While most police officers conduct their duties honorably, some, unfortunately, engage in unethical and illegal measures to secure convictions. Entrapment is an example of this, and it can be complicated to prove. Entrapment occurs when the police coerce an individual into committing a criminal act they otherwise would not commit. It's also possible for a defendant to face an unjust charge due to illegally planted evidence, such as police planting drugs in a suspect's car during a traffic stop to charge them with a possession offense.
It's relatively common for defendants facing criminal charges in North Carolina to assume their situations are hopeless until they secure legal counsel from seasoned defense lawyers. Therefore, when you choose Helton, Cody & Associates to represent you in any criminal case, we will thoroughly explore every potential avenue of defense available to you.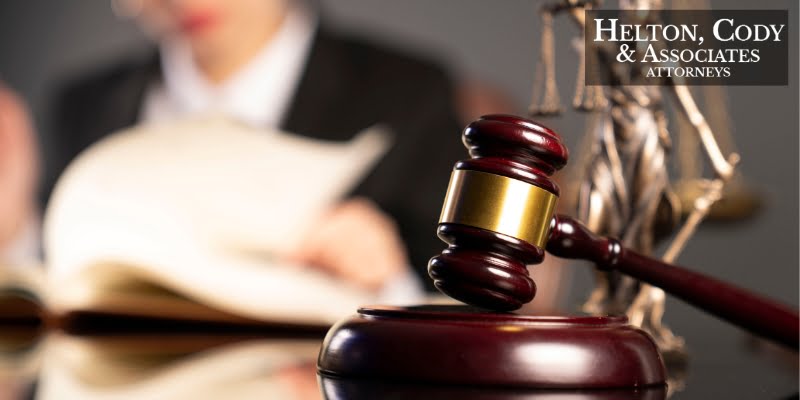 Potential Penalties for Criminal Conviction in North Carolina
The criminal code of North Carolina assigns various penalties to different offenses. Most criminal offenses are prosecuted at two levels. The misdemeanor level is the least severe, while the felony level is the most severe. However, you should not take this to assume that a misdemeanor is a minor offense. Some misdemeanor offenses carry significant penalties. Standard penalties for many misdemeanor offenses in North Carolina include fines, penalty assessments, incarceration in county jail, and additional penalties based on the specific details of the case and the nature of the offense. By comparison, a felony conviction often leads to hefty fines, incarceration in state prison, and a loss of constitutional rights, such as the right to own firearms.
When a criminal offense entails harm to a victim, the defendant is likely to face restitution for the victim's losses and the standard penalties that apply to their charges. In addition, the victim may also have grounds to file a personal injury claim or other civil suit against the defendant, depending on the nature of their damages. For example, if you are convicted of killing another person intentionally, you could face many years in state prison, heavy fines, restitution assigned by a criminal court judge, and a wrongful death lawsuit from the victim's family.
The defendant's prior criminal history can also influence sentencing upon conviction. For example, North Carolina state law imposes increasing penalties for repeat DWI offenses within a short time. Penalties increase with each subsequent offense. The same applies to most other offenses. Defendants with criminal records are likely to face more severe penalties for subsequent convictions, even if they are convicted for a different type of offense than their last case.
What Is Plea Bargaining?
When a conviction is unavoidable and the prosecution handling a criminal case has airtight evidence, plea bargaining may be the defendant's best available option. Prosecutors will typically offer plea bargains to first-time offenders and in cases where a trial would almost certainly lead to a conviction. In exchange for the defendant pleading guilty and thereby conserving court resources, the prosecution may offer to reduce the defendant's charge to a lesser offense or reduce their penalty. For example, if a defendant faces a low-level felony charge, the prosecution may allow them to plead guilty to a misdemeanor with a lighter sentence.
Helton, Cody & Associates can help you determine whether a plea bargain would suit your best interests. If the prosecution offers a plea deal and you refuse to take it, you could face a much more severe sentence if you are convicted at trial. Ultimately, it's essential to evaluate the unique details of the case to determine whether a plea bargain is a suitable option for a defendant.
Contact Our Hickory Criminal Law Attorneys Today
No matter what criminal charges you face in Hickory, NC, your situation may not be as hopeless as it may seem. The right Hickory criminal defense lawyer can make a tremendous difference in the outcome of your case, potentially helping you secure a lighter sentence or even case dismissal. The attorneys at Helton, Cody & Associates have years of experience providing comprehensive criminal defense representation, and we can put our skills at your disposal in your criminal case. For a private meeting with our experienced criminal defense attorney, Heather Higgins,contact our firm to schedule an appointment. Call our office at 828-328-9966 (toll-free at 888-321-0494) or send us an email. Located in Hickory, North Carolina, our office is near Lenoir-Rhyne University with access to Interstate 40.